Tronox First Destroys In USA Now In South Africa ?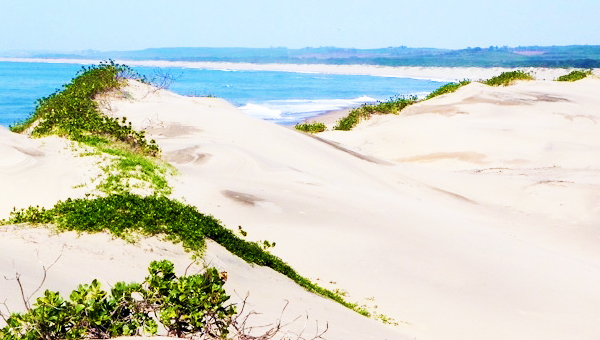 New Tronox Group, coming to destroy this, which was formed from a bankrupt corporation which reportedly polluted 22 states in the United States of America with nuclear waste, wood poisons, rocket fuel, mining, waste oil, and gas.
From as far back as my memory serves, Mtunzini has always prided itself on the basis of its natural attractions which make it an unspoilt and safe environment with pristine coastal dune forest, lagoon, mangrove swamps and kilometres of undisturbed beach – 'the jewel of the Zululand coast' as the postcards of the 1960s described it. Today our brochures and our tourism websites still use the same language to market this gem.
At the time of the millennium there were 10 accommodation establishments and four catering establishments in Mtunzini. In the past 14 years this has more than doubled to more than 20 accommodation establishments ranging from quality B&Bs, hotel, lodges and self-catering facilities as well as at least eight good restaurants.
Tronox would have us believe that ecotourism and mining need not be mutually exclusive and it has even made a vague proposal to offer 'mine tours'. As part of its application for development rights in terms of the requirements of the KZN Planning and Development Act of 2008, Tronox has commissioned Durban academic Dr Jeff McCarthy's report: 'The Possible Impacts of Dune Mining on the Mtunzini Town Character'.
Despite claims that he spent 'three months of research into the specifics of Mtunzini and its regional context', Dr McCarthy fails dismally in capturing the town's character and only contributes the occasional banal observation about the type of cars parked outside Spar at midday ('mainly older lower cost') and despairs at the absence of a Protea hotel. With this limited world view of how a village on the seaside close to the N2 should behave, he then wastes no time in pontificating on the reasons for this 'arrested development' when towns under similar circumstances have boomed. As an example, Dr McCarthy chooses Mtubatuba – an unfortunate comparison if there ever was one.
Instead he takes self-conceited delight in trying to paint a picture of Mtunzini as a kind of 'Orania-by-the-sea' for greenies. It's a tired joke. As a community we've been having the discussion amongst ourselves for years – with a lot more depth and humour, I may add.
In an attempt to give some sorely needed gravitas to his unconvincing conclusions, Dr McCarthy has very thoughtfully added 21 pages of CV.
Living close to nature in a pristine environment
If Dr McCarthy had made the slightest attempt to try to understand 'the character of Mtunzini' he may have discovered that there are people in the world who actually do not want to live in a Ballito or an Amanzimtoti or stay in a Protea hotel, that there are people who choose to live close to a pristine environment and that the matter of searching for a balance between a good quality of life with the least impact on the environment is important to some people.
The residents of Mtunzini deserved something a little more thoughtful than Dr McCarthy's poorly researched hatchet job.
He describes other towns in the world where mining has taken place – Australia, France, Pilgrims Rest – which have survived mining to become successful urban centres. These brief investigations are supposed to hold 'principal lessons' for the Mtunzini context. However, even the most cursory checking of these mining towns reveals that all went into decline once the mining rush was over and most became 'ghost towns' until they were rediscovered years later and the nostalgia travel industry kicked in.
Everyone knows that today's popularity of Pilgrims Rest is based entirely on the fact that following the boom the town went into complete decline and that the tin and iron village of the gold rush days remained virtually intact until the 1970s when everyone wanted to do the 'time-warp' thing again.
The one success story of Australia of which I have a little experience is Ballarat, about 120kms outside Melbourne. This area experienced an enormous gold rush in the 1850s which was sustained for about 50 years but then rapidly faded and declined with the slowing of gold extraction. The town suffered seven decades of little development until its Victorian architectural heritage was recognised and 25 hectares of the town became a successful functioning historical theme park. Sadly its twin town in the United States has never enjoyed a similar catharsis. Ballarat in California experienced a similar gold rush followed by a similar decline. It gained notoriety briefly in the 1960s when the 'Manson family' of killers moved in but today it only boasts two residents and a couple of passing tumbleweeds.
Mining villages become Ghost towns
In fact, a little searching on the Internet – using 'mining village' and 'ghost towns' as keywords – often produces the same results. Google appears to recognise them as synonyms.
 The 'Principal Lesson' here seems to indicate that mining is not sustainable, that some people make a quick buck and move on and that whoever stays behind can expect a devastated landscape and a declining economy with little money for home improvements.
Mtunzini – one of seven most underrated spots in South Africa
In my work with the uMlalazi Tourism Association I have spent much time on creating media awareness about our region by inviting members of the Press to visit and I'm always struck by their surprise at finding such a beautiful unspoilt location on the KwaZulu-Natal coast. It is unique and that should be celebrated and cared for. In the past year, we have enjoyed media coverage from an enormous range of national media – including Country Life, Wild magazine, Wildside magazine, Sunday Times Travel Weekly, Sunday Tribune, the Mercury, The Witness, Go!/Weg!, Getaway, Pasella (on TV) and even Mens' Health which included Mtunzini in its 'seven most underrated spots in South Africa' article in the November 2012 issue.
All articles have had the highest praise for the region. The most recent Press report by respected journalist Myrtle Ryan opened with: 'Mtunzini is still one of the prettiest towns in KwaZulu-Natal. Huge trees shade the winding roads, vegetation flourishes and the locals are helpful' (Saturday Star 22 December 2012)
Not many towns get compliments like that. Can you imagine what they will write if Tronox starts to mine the 12-km strip along the N2 entrance to Mtunzini with bare red earth on the seaside and enormous slimes dams on the inland side. They will write: 'Mtunzini used to be one of the most beautiful towns until Tronox moved in and wrecked one of the last unspoilt environments along the KwaZulu-Natal coast'. Or, 'Mtunzini used to be the gem of the Zululand coast until Tronox mined it'.
I certainly hope I'm not around to try and market that if mining ever happens.
Outside the Ezemvelo KZN Wildlife reserves, uMlalazi Municipality is the one shining example of a tourism success story in Zululand. Our local tourism association (the UTA) leads the way in marketing, developing regional products and ensuring that tourism is a sustainable industry in the region. Not even a city like Richards Bay comes anywhere near producing what we have achieved and I hope the Municipality is proud of the UTA's achievements and takes cognisance of this when it has to make a decision on either allowing or forbidding mining 100m from Siyaya Street.
The Mtunzini I know is not one of 'arrested development', I have known it all my life and I have seen many changes and developments. I think it is a town which recognises its uniqueness, values it and wants to preserve it. It is not opposed to change, it only wants this to be 'appropriate development'. Several generations have given of their time and money to make it what it is today, a dusty mine on its doorstep doesn't seem like just deserts to me.
The Mtunzini Conservancy is doing an exceptional job in taking on Tronox's bid to mine 100m from people's homes and it has set an outstanding example to small communities around the country that they do not have to be bullied by faceless international corporations driven by profit and greed. It's difficult to appreciate the magnitude of this battle but the Conservancy has prepared its case thoroughly and convincingly by pooling whatever resources are at hand and seeking the best legal advice when need be. All this has come at great sacrifice to a small group of people who have given of their time and expertise in this mammoth task but more importantly, it would not have been possible without the incredible generosity of ordinary people with whom this battle has struck a deep personal chord. Your donations – large or small – will make a difference and I urge you to contribute to the SOS Campaign run by the Mtunzini Conservancy to preserve our environmental heritage.
Yours sincerely,
BRUCE HOPWOOD
Concerned Resident of Mtunzini
Tom Casey Chairman and Chief Executive Officer of Tronox
Tom Casey serves as Chairman of the Board and Chief Executive Officer of Tronox. Prior to becoming CEO in October 2011, Mr. Casey co-chaired a Tronox board-level committee tasked with exploring strategic opportunities for the company. The committee's findings helped spur Tronox's acquisition of Exxaro Mineral Sands, a combination that has made Tronox the world's largest fully integrated titanium dioxide producer.As CEO, Mr. Casey has worked to enhance Tronox's international footprint and align the company with global economic trends such as industrialization and increased consumerism in emerging markets. He has worked to streamline company-wide operations and ensure a more balanced and stable revenue mix.Mr. Casey brings to Tronox extensive experience as an executive. His former responsibilities include Chairman of the Board, Director and CEO positions in a variety of companies, most recently as CEO and Director of Integra Telecom and, prior to that, Current Group (a clean energy technology company).He has also served as Managing Director of Merrill Lynch & Co, and was a partner at the law firm Skadden Arps. A native of Boston, Mr. Casey graduated from Boston College and The George Washington University, National Law Center.The KwaZulu-Natal environmental affairs department has approved a controversial dune mining project to South African company Exxaro KZN Sands, the Mercury reported on Friday.
Exxaro KZN Sands has partnered with Australian company, New Tronox Group, which was formed from a bankrupt corporation which reportedly polluted 22 states in the United States of America with nuclear waste, wood poisons, rocket fuel, mining, waste oil, and gas.
The mine would be located in Mtunzini and the adjoining Umlalazi nature reserve.
Valued between R1.4 billion and R2.4 billion, the Fairbreeze project aimed to extract heavy minerals such as titanium, zircon, rutile, and leucoxene.
The mine would be situated 100 metres from the coastal resort town which generates most of its income from ecologically-based tourism.
According to the Mercury the mine was expected to have harmful impacts on Ezemvelo KZN Wildlife's well-known Umlalazi nature reserve, the Siyaya coastal forest and the Twinstreams environmental education centre.
The Mercury quoted the environmental affairs department saying:
"The economic benefits associated with the development of Fairbreeze mine are huge in terms of retaining jobs, GDP and expenditure in the local markets during construction."
Exxaro spokesman Hilton Atkinson said on Thursday some authorisations were still needed and mining could only begin when all these were in place. -Sapa
My Personal comment is that Tronox does not care about The Mtunzini Conservancy and with their International money they will wipe the place out and perhaps BRUCE HOPWOOD is right another Ghost Town will sometime in the future replace the beautiful  Mtunzini Conservancy. The world is in a bad shape, because of the greed, money and power that man seeks.