45 Years Later Fogerty's CCR, Now Country Music?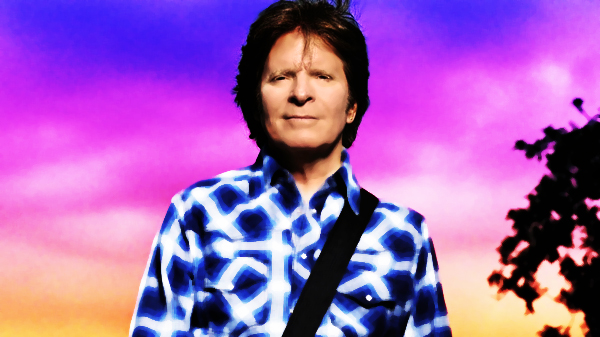 John Fogerty's 'Wrote a Song for Everyone' out on MAY 28th!
JOHN FOGERTY'S much-anticipated album WROTE A SONG FOR EVERYONE will be released May 28th on Vanguard Records, his first for the label. Beginning today (February 4), the album is available for pre-order in both the iTunes and Amazon stores (see the album cover above and the tracklisting below). One of the album's highlights–FOGERTY's immortal swamp rock smash hit "Born On The Bayou" which the legendary rocker has recorded with Kid Rock—was used by NFL Network in their coverage of Super Bowl XLVII fittingly played in New Orleans.
Wrote a Song for Everyone tracklisting:
1. Fortunate Son (with Foo Fighters)
2. Almost Saturday Night (with Keith Urban)
3. Lodi (with Shane Fogerty and Tyler Fogerty)
4. Mystic Highway (John Fogerty solo)
5. Wrote a Song for Everyone (with Miranda Lambert feat. Tom Morello)
6. Bad Moon Rising (with Zac Brown Band)
7. Long As I Can See the Light (with My Morning Jacket)
8. Born on the Bayou (with Kid Rock)
9. Train of Fools (John Fogerty solo)
10. Someday Never Comes (with Dawes)
11. Who'll Stop the Rain (with Bob Seger)
12. Hot Rod Heart (with Brad Paisley)
13. Have You Ever Seen the Rain (with Alan Jackson)
14. Proud Mary (with Jennifer Hudson feat. Allen Toussaint and the Rebirth Brass Band)
Produced by FOGERTY, one of rock's most important artists and a national treasure who's sold over 100 million records, WROTE A SONG FOR EVERYONE is a celebration of his iconic songbook and a collection of 12 classics and deep tracks from his remarkable canon of hits as well as two brand new songs, "Mystic Highway" and "Train of Fools." FOGERTY performed alongside an array of today's biggest superstars from the country, pop and rock worlds including Foo Fighters, Bob Seger, Keith Urban, Jennifer Hudson, Kid Rock, Brad Paisley, the Zac Brown Band, My Morning Jacket, Alan Jackson, Miranda Lambert and more. The album also sees FOGERTY teaming with an acclaimed new band like Dawes, who were eager to acknowledge the groundbreaking songwriter/guitarist's titanic influence. FOGERTY also recorded his classic "Lodi" with his sons Shane and Tyler Fogerty at Abbey Road Studios in London.
As FOGERTY explains in a cover story in the current (January/February) "Legends" issue of American Songwriter: "I encouraged each of these artists to come up with their own vision of my song, rather than just redoing what I'd recorded in the past. I was hoping they'd have some different twist so it would be fresh, so I'd have to work, too. I wanted it to be something new."
WROTE A SONG FOR EVERYONE marks FOGERTY's ninth studio solo album since disbanding Creedence Clearwater Revival. Mixed by Bob Clearmountain, it was recorded in Los Angeles and Nashville except for "Proud Mary" which was recorded in New Orleans with AllenToussaint and the Rebirth Brass Band. FOGERTY recorded "Fortunate Son" with Foo Fighters at their 606 studio using "the" legendary Neve recording console featured in the #1 iTunes documentary Sound City. FOGERTY has performed with the Sound City Players, the all-star band assembled by Dave Grohl to play the music created for the film and other classics, at recent shows at both the Sundance Film Festival and the Hollywood Palladium in Los Angeles.
JOHN FOGERTY will tour in 2013 and look for him to be at this year's SXSW in Austin (dates/events TBA).
About John Fogerty:
John Fogerty–singer, songwriter and guitarist–has sold over 100 million records, earning 18 Gold Albums and 10 Platinum Albums. He was inducted into the Rock & Roll Hall of Fame in 1993, won the Grammy Award for his album Blue Moon Swamp in 1997 and was inducted into the Songwriters Hall of Fame in 2005. He is also a BMI Icon Award Winner. In addition, Fogerty and his #1 phenomenal recording "Centerfield" were honored during the 2010 National Baseball Hall of Fame Induction Ceremonies–the first time the National Baseball Hall of Fame has immortalized a musician or song as part of the annual ceremonies. He's also called the "Father of the Flannel Shirt."
WHISNews21: It is so hard to not accept John Fogerty into my country circle as Creedence Clearwater Rivival is my all time favorite pop band. Now the Pop/Rock songs of John Fogerty that I still love as much today as the day I first heard them, is now today's Country. What are we to do ?