Christmas In Music City with Josie and Tinamarie Passantino
"Christmas in Music City" at the world-famous Texas Troubador Theatre, Nashville
Date: December 4th, 2020 Venue: Texas Troubadour Theatre ​Show time: 7:00pm 2416 Music Valley Dr Nashville TN 37214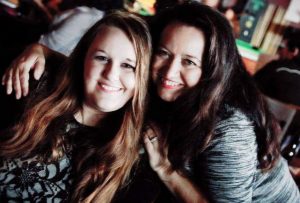 Josie Passantino and Tinamarie Passantino of "The Josie Network" are giving back to children, families, and veterans in need this Christmas Holiday season. The popular hosts of The Josie Show and owners of The Josie Network of Brands as well as The Josie Music Awards are having a holiday event "Christmas in Music City" at the world-famous Texas Troubador Theatre in Nashville, Tennessee December 4th 2020 7pm.
This will be a much-needed boost to Nashville's music scene since the covid shutdown, and as venues safely reopen, the Christmas show will bring hope and good cheer, and a celebration with live music performances from artists onstage, an appreciative audience, and some surprises! Tinamarie said, "Josie and I decided we wanted to make a difference during this holiday season!"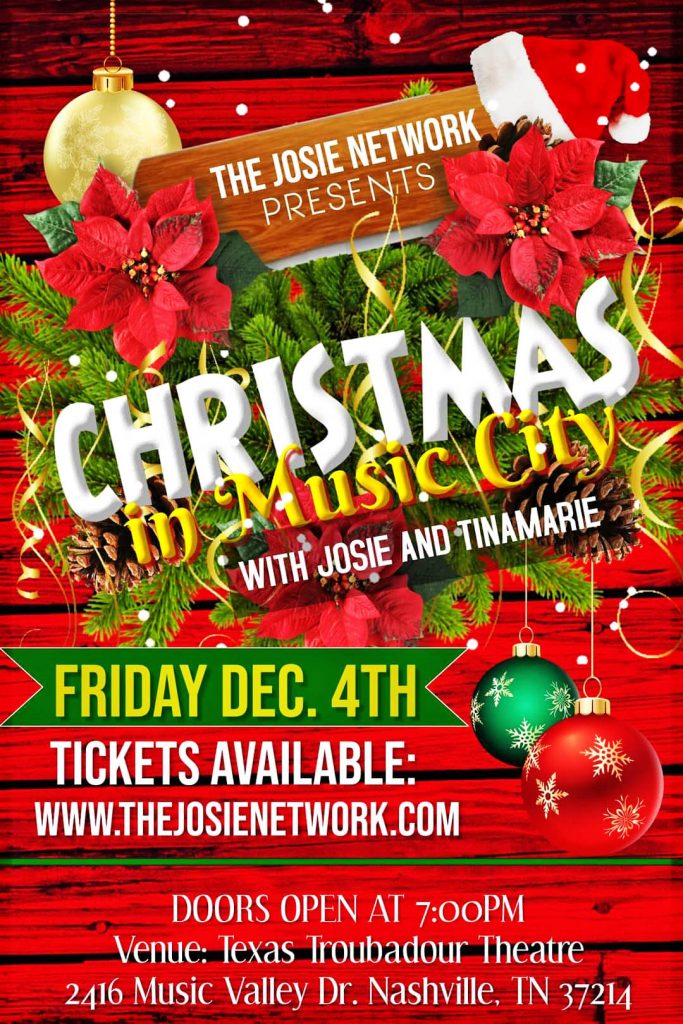 Josie and Tinamarie always wanted to get indie artists involved and judging by the lineup they have done just that. Appearing on this the 2020 Christmas Special are, Jackson Snelling, Ava Paige, Annemarie Picerno, ​Sam Schmidthuber, Michelle Leigh, Heather Victorino, Jennifer Bone, Brenda Lynn Allen, Dawn Rix, Lee Newton, Deby Kelley and Laine Lonero.
Tinamarie had the following to say about the Christmas Special, "People wanted more than our annual award show, and besides giving back to the community, they wanted various events to help the artists perform more throughout the year." When asked if she and Josie ever disagree on business Tinamarie laughed and replied, "Josie takes the creative side and I take the business side in negotiations and contracts. We don't argue and we share the creative process. Every year we try and help an organization in need and of assistance. Therefore a Christmas holiday show was a perfect idea to get together and have fun while helping others. A beautiful Christmas show not only features lots of talented artists, but it is also rumored that Santa may make an appearance! " Some say it will depend on if you were "Naughty or Nice" this year if you see him at the show or not …ho…ho….ho
A portion of the proceeds from this show will be donated to Toys for Tots. For your convenience, there will also be a bus outside The Texas Troubador Theatre from 6 pm to 7:15 pm for anyone who wishes to donate socks, coats, and toys for various charities to benefit children, adults, veterans, and families in need. Dawn Rix Music and Lucky Dog Bus Company are coordinating the "Stuff The Bus" with coats donated to www.lastcall4grace.org who assist victims of human trafficking. The socks will be delivered to  www.thepeoplespatriotproject.org who will see that our veterans/military/first responders receive them. Toys will also be donated to Love from Music City to go to the Foster Children of Middle Tn.
This dynamic duo of Josie and Tinamarie have supported fundraisers and awareness in many past events such as Tornado Victims, Anthony's Promise, St. Jude's Children's Research Hospital, and Riley's Kids in addition to recognizing and creating opportunities as "Christmas In music City" for independent artists.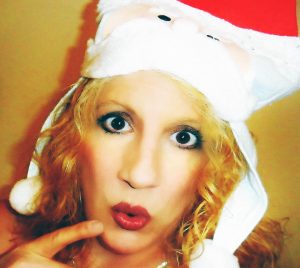 Annemarie Picerno, a Nashville entertainer and member of The Josie Network said, "We hope people will stop by the bus and donate whatever they can to Toys For Tots and make a difference for kids and families. They can also attend this beautiful show safely and with social distancing in place at The Texas Troubador Theatre, a beautiful venue which has been the central spot in Nashville among fans who enjoy listening to live traditional country music in an intimate and historically rich setting, from legendary country artists to up and coming performers. I am thrilled to be performing at this event along with some superb talents, and it not only will be a night of great entertainment but will give back to our community! We are all so ready to laugh and celebrate with our music family! We are blessed to have Josie and Tinamarie bring the music back to Music City!"
Jennifer Bone was also available for comment, "I am oh so anxious and ecstatic to share the news that I will be one of the performers at this very special Christmas Show in Nashville on December 4. A huge Thank you to Josie Network. looking forward to seeing you all there soon!"
.
WHISNews21 thanks Annemarie Picerno for making this news article possible. For further information, visit www.thejosienetwork.com
.
 – WHISNews21