Jim Reeves APX Honorary Member Nov 2016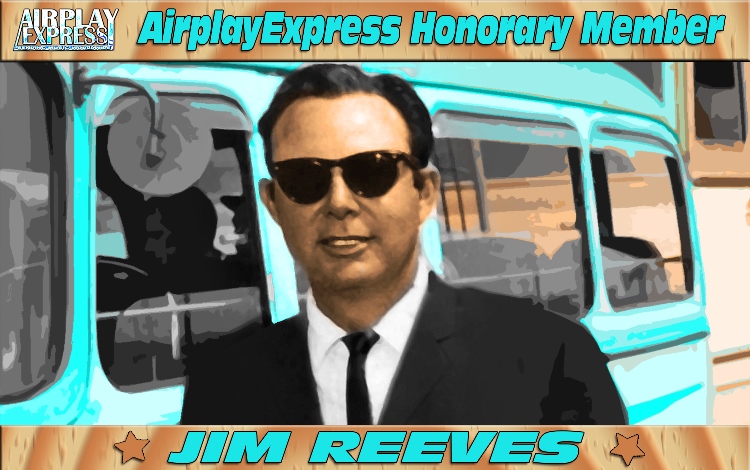 Jim Reeves Officially an Honorary Member Of AirplayExpress
Honorary Membership Status has been awarded to Country Legend Jim Reeves
Country Legend Jim Reeves Sold Millions Of Albums Even After His Death
Jim Reeves used a soft semi-crooning style suggestive of Eddy Arnold. Of all the country-pop singers of the late fifties and early sixties. Jim Reeves had perhaps the greatest ability to appeal to popular audiences without losing his sense of country identity. Whatever the source and nature of his musical style, there was no question about the authenticity of his country credentials.
He was born on Aug.20, 1923 in Galloway, Panola County. His father, Tom Reeves, died when Jim was 10 months old, leaving his mother, Mary Adams Reeves and his eight older brothers and sisters responsible for his up-bringing. His diversions as he grew up were baseball and country music. After a successful athletic career at Carthage High School and The University of Texas, he became a pitcher in the St. Louis Cardinals system. An injured leg in 1947 changed directions for him.
He had majored in speech at the university and his fine speaking voice enabled him to secure a job as a disc jockey at KGRI at Henderson. He later owned the station jointly with Tom Perryman.
traded my glove for a guitar,¡¡À he said. He had been a musical entertainer in high school and kids who rode the bus with him enjoyed his guitar music when he would bring it for a school program.
After going to KGRI, he began singing in the Henderson area. He made his first recordings in Houston in 1949, on the Macy label.
In 1951, he signed a contract with Abbott Records. He joined the Louisiana Hayride in 1953 and success was on the way. Mexican Joe was his first big hit, proving to be the beginning of a long string of successful recordings which took him to the ¡¡ãGrand Old Opry¡¡À and a contract with RCA Victor. Soon he became a popular favorite as far away as Norway and South Africa.
His European tour, a rare opportunity in 1957, was the result of a request by the U.S. Army. He and other American artists appeared in person to satisfy the widespread demand for country music. RCA released his single of Four Walls while he was in Europe. The tour was not as successful as had been hoped, but he came home to discover his name had become a household word in America. He'll Have to Go followed and was a greater sales hit. Two of his original compositions, You¡¯ll Never be Mine Again and What Would You Do were successful releases.
After 1959, he traveled to every state in the U.S. and most parts of the world. His 1962 tour of South Africa with Chet Atkins and Floyd Cramer broke every known attendance record in the entertainment field.  The next year, 1963, he returned to South Africa to star in his only film, Kimberly Jim. À This film was brought to Carthage by the Heritage Society last year.  Since Jim's death, his records have continued to sell. He was a prolific entertainer and a large backlog of unreleased recordings have been made available to RCA by his widow, Mary, who is a real promoter. She has opened a Jim Reeves Museum in Nashville and is heard on TV promoting records and tapes.
Engineering techniques developed recently have been added to recent albums giving them a contemporary sound. Reeves died before the Nashville Sound came into wide acceptance. Nearly fifty albums are still available. Like many other artists who died tragically, his following today is as loyal as ever. His version of It's Nothin to Me became a top 20 country hit in 1977, 13 years after his death.
In Jim Reeves, Chet Atkins (his producer) knew he had the kind of polished and mellow entertainer who could cross over into the pop market, so he used some symphonic sounding violins, leaving out the backwoods sounds of fiddles and steel guitars.
Jim's first gold disc came in 1953 for Mexican Joe. Bimbo in 1956 was his second gold disc. In 1957 he won his third gold record for Four Walls. His greatest hit to become a gold record was He'll Have to Go in 1959. The list of other songs that have been popular goes on and on. Some that are well-remembered are: Have I Told You Lately That I Love You, Moonlight and Roses, Welcome to My World and Talking to Your Heart.
On a flight back to Nashville from Arkansas, July 31, 1964, following the negotiation of a property deal, Jim and his manager Dean Manuel reported their single engine plane had been encountering heavy rain while crossing remote hills a few miles from Nashville's Berry Field Airport.
The plane was making its approach to land at 5 p.m. when it disappeared from the radar screen.  A search involving 12 planes, 2 helicopters and a ground party of 400 found the wreckage and bodies two days later amid dense forest. After memorial services in Nashville, his body was flown to Carthage for burial. He was brought home to Carthage in a National Guard plane furnished by the Governor of Tennessee. We know how popular the grave site still is, some three miles east of Carthage on U.S. 79. The memorial statue stands 12 feet tall, picturing the singer standing relaxed with his guitar. The detail on the statue is amazing. It is perhaps the most popular tourist attraction we have in the county.
Three years after his death (1967) Jim Reeves was elected to the Country Music Hall of Fame. The inscription on the bronze plaque reads:
"The velvet style of Gentleman Jim Reeves was an international influence. His rich voice brought millions of new fans to country music from every corner of the world. Although the crash of his private airplane in 1964 took his life-posterity will keep his name alive-because they will remember him as one of country music's most important performers."
Perhaps you, as I do, remember attending his funeral on that hot August day in 1964, at Central Baptist Church. It was an overflow crowd. Members of the First Methodist Choir will remember the many times we sang at Panola Nursing Home and Mrs. Reeves (Jim's mother) would ask us to sing the gospel song that Jim used to sing for her, I'll Fly Away. We sang it with her many times and she sang every word even after she was bed-ridden.
Chet Atkins, who produced albums for Jim, said of him "a man like Jim Reeves is a rare find in the field of music because he has been a great in the country and western field, the pop field and in religious and inspirational music." His widow, Mary said " Jim's touching home base when he records religious and inspirational music." The legend lives on and the records continue to hit the charts.
Jim Reeves Officially An Honorary Member Of AirplayExpress
AirplayExpress Sending Your Music Worldwide