48 Hours After Merle's Death Willie Breaks His Silence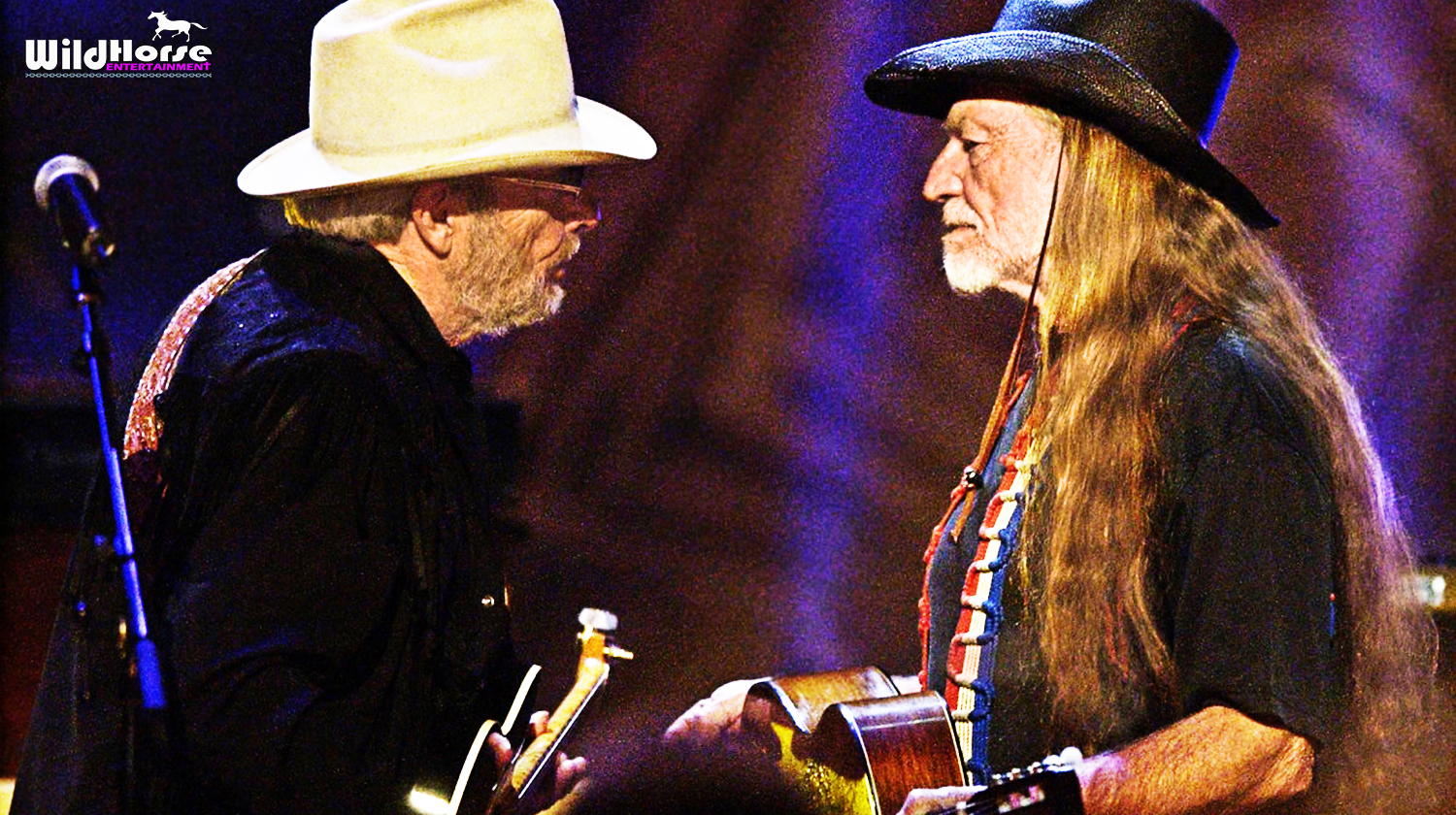 48 Hours After Merle Haggard's Death Willie Nelson Breaks His Silence
When news broke that Merle Haggard died on his 79th birthday, every true music fan instantly thought of Willie Nelson
If you're reading this article, there's a good chance you've been listening to Merle Haggard non-stop. And there's an even better chance that many of those Merle songs are duets with his "brother", Willie Nelson. The two had been friends for almost half a century, and had gotten even closer after releasing their sixth collaborative album, Django and Jimmie, just last summer. When I heard what Willie had to say about losing his partner-in-crime, I admired their friendship and contributions to music even more.
Did you know that Merle Haggard and Willie Nelson first met at a game of poker that was held at Willie's Nashville home in 1964. At the time, they were struggling songwriters. However, they didn't become close until playing at casinos in Reno in the late '70s.
"We'd play a couple of long shows a day, then spend all night long jamming," Haggard told Rolling Stone.
Hours after media outlets confirmed Merle's death, Willie released a sentimental statement. It breaks my heart to imagine the pain Willie is enduring after losing such a monumental figure in his life.
"He was my brother. My friend. I will miss him," Willie said.
Willie tweeted the statement along with a priceless photo of him and Merle. He also included a link to the music video for their hit song "Pancho and Lefty". The simplicity of Willie's statement is a reflection of the extraordinary man that millions are missing today. The details of their friendship made me miss Merle even more.
Did you know that Merle and Willie recorded "Pancho and Lefty" at Willie's ranch near Austin, where they'd stay awake for days. The two would play golf all day, then record music all night. Willie claims they "were living pretty hard in that time period," and their timeless music is proof. "Pancho & Lefty was a different beast. Released during a time when country artists were beginning to borrow more and more heavily from pop music, the album doubled down on twang and dusty cowboy imagery, bringing a sense of old-school honky-tonk back to a rapidly modernizing genre," Rolling Stone magazine said.
Fans were thrilled when Willie and Merle released another duet album to cherish last summer. Django and Jimmie was an instant chart-topper, and the two country music legends spent most of their time praising each other during interviews promoting the new album.
"It's a mutual-admiration society with us," Willie said. "Merle's one of the best. There's not anyone out there that can beat him."
True to their outlaw roots, the first single Willie and Merle released from the new album was called "It's All Going to Pot." The pro-cannabis song sparked quite a controversy, but fans were shocked when Merle revealed how he REALLY felt about the green leaf his 'BFF' Willie sang about so much…
"At the time I wrote 'Okie From Muskogee,' I didn't smoke. It was '68. I thought it was responsible for the flower children walking around with their mouths open. It was not so. But if a guy doesn't learn anything in 50 years, there's something wrong with him," Merle said.
Merle was well-aquainted with causing controversy through his music. Although he released several No.1 singles throughout the 1960s, his most controversial song, "Okie From Muskogee," defined a generation and became his signature song.
When Merle released "Okie From Muskogee" in 1969, it became the anthem for many Americans whose patriotism and conservative values were under persecution from Vietnam War protesters and hippies. The controversial single crossed over to the pop charts and in 1970 earned Merle the Country Music Association's Awards for Single, Entertainer and Top Male Vocalist of Year. The album of the same name also won Album of the Year.
"The lack of respect for the American military hurt my feelings at the time," Merle once said
Although "It's All Going To Pot" got most of the spotlight when Merle and Willie debuted their sixth duet album, it was their song "Missing Ol' Johnny Cash," that touched fans and music critics the most. Rolling Stone magazine called the song "one of the best" and described it as "an ode to their late friend and a meditation on mortality." When I listened to the song's lyrics, I realized once again that Merle's storytelling lyrics are incomparable.
"Well, Johnny Cash was a friend of mine, knew him well for a mighty long time. Shared the stage for many a show, broke my heart to see him go. Cash had the fire of a thousand men, lovin' life was his greatest sin. Treated his fans like the next of kin. Rappin' a bit, talkin' trash. Missing ol' Johnny Cash." – Merle Haggard, "Missing Ol' Johnny Cash"
Did You Know that Merle Haggard and Johnny Cash's first encounter was on January 1, 1958 at San Quentin, a maximum-security penitentiary just outside of San Francisco. It was Johnny's first-ever prison concert – a concert that inspired Merle Haggard, then a 20-year-old San Quentin inmate, to become a country music legend. But the story of how they actually met is even more mind-blowing.
"Johnny Cash was a special friend to me. We understood each other – we had the same upbringing, the same sense of humor," Merle once said.
The two country music legends didn't actually meet until 1963, when they ran into each other in the bathroom at a recording studio. And yes, it happened while they were next to each other in the urinals.
"We had some crazy times. He and I became real close friends. I think we would've killed for each other," Merle said about Johnny.
It was Johnny Cash who encouraged Merle to be open about his criminal past. Merle's biggest fear was the public discovering all the crimes he'd committed, but Johnny convinced him that the people would support him and even better – the tabloids wouldn't be able to throw it in Merle's face if he threw it in their face first. Merle's fans loved him even more after learning he escaped prison 17 times.
"Johnny always said to me, he said, 'Merle, you're everything that people think I am,'" Merle told Vanity Fair in 2010. "Prison is the biggest business in America. [If] you got the money, you can build a prison out in Nevada and it'll be filled before you finish building it. That's a fact, and that's a shame," Merle once said.
Did You Know that  Merle and Johnny were so protective of each other, that Merle mouthed off to CBS Records executive, Rick Blackburn, in 1985 after he fired Johnny Cash. Blackburn hated one of the songs Johnny had recently recorded and went out of his way to tell Merle too – every time he saw him. Merle bit his tongue for a while, but eventually he gave Blackburn a piece of his mind and stood up for his dear friend, Johnny Cash. "That's about the third time you've told me that." Merle told Blackburn, "It's more like five times. Well, I'm about five times short of telling you to go to hell."
"Who do you think you are? You're the son-of-a-b**** that sat at that desk over there and fired Johnny Cash. Let it go down in history that you're the dumbest son-of-a-b**** I've ever met," Merle said as he finished mouthing off to Blackburn.
One of Merle's most legendary memories with Johnny is the time Johnny thought it would be hilarious to dynamite a broken-down car he discovered on the side of the road. Merle's retelling of the story made me laugh so hard. "[Johnny] hooks it all up, hits the plunger and blows it up. And he said, 'Now, when that guy goes to tell his old lady his car blew up, he won't be lying!'" Merle said
Although the loss of Merle is painful to bear, I'm sure Willie Nelson finds peace knowing his best friend is now jamming in heaven with Johnny Cash – and don't forget about Waylon Jennings and George Jones. "Haggard's music remained some of the most consistently interesting and inventive in country music. Not only have his recordings remained fresh, but each subsequent generation of country singers shows a great debt to his work. That fact stands as a testament to his great talent even more than his induction to the Country Music Hall of Fame," CMT said.
As the saying goes, "Legends never die", but that doesn't mean the pain his fans are experiencing right now is excessive. We're sad because the man who made music that became the soundtrack to our lives is gone – and completely irreplaceable.
Whether his music was the only song you could relate to in the 1960s, whether his criminal past inspired you with hope, or whether you have infinite cherished memories with your father playing Merle's timeless music on the way to school everyday in the 90s – it's okay to be sad.
Merle Haggard isn't just a legend – he's transcendent. At least we have his music to help us cope, and the immeasurable impact he's made on all our lives, especially Willie Nelson's, that will continue to impact others for generations to come.
No matter what genre of music you prefer, Pancho and Lefty will go down in history as the greatest collaboration of all time. Their bond is incomparable, and this loss is unfathomable.
We ask that you keep Willie Nelson and the rest of Merle Haggard's loved ones in your prayers – they need them now more than ever – God bless Willie Nelson as he mourns.
 – qpolitical