Rollin"Oscar" Sullivan, 'Opry' star Dies At Age 93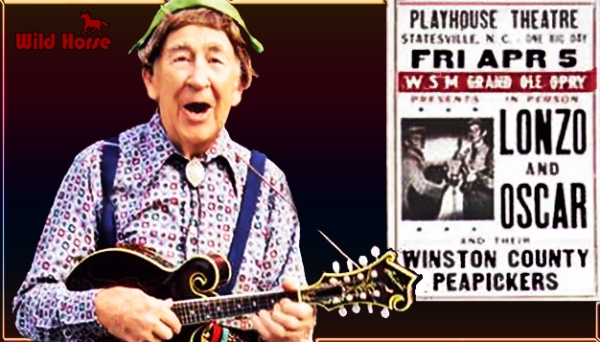 Rollin"Oscar" Sullivan, longtime 'Opry' star with duo Lonzo& Oscar, dies at age 93
Posted on September 7, 2012 by Peter Cooper July 19, 1919 – Sept. 7, 2012
Rollin "Oscar" Sullivan, who starred on the"Grand Ole Opry" with duo Lonzo & Oscar for 38 years, died in hospice care in Madison on Friday. He was 93, and leaves a legacy of music and humor, bound together in some of country music's most smile-provoking songs, including"Did You Have To Bring That Up (While I Was Eatin')," "Hole in the Bottom of the Sea" and signature tune,"I'm My Own Grandpa."
Mr. Sullivan grew up in Cedar Flat, Ky., playing music and listening to the "Opry" on the radio. He and brother Johnny Sullivan formed a duo and began playing on a Jackson, Tenn., radio station before Mr. Sullivan joined Paul Howard's Arkansas Cotton Pickers at the"Opry" in 1942.
In 1945, the Sullivan brothers joined Lloyd George in the band of country legend Eddy Arnold, and for comic relief during Arnold's shows, Mr. Sullivan and George developed a comedy act that came to be known as Lonzo & Oscar. The duo would become "Opry" members themselves in 1947, and they began recording for RCA Victor Records.George is now known as "the first Lonzo," as he left for a solo career in 1950, and brother Johnny became the second and longest-running Lonzo.
The brothers, who also recorded for Capitol, Starday, Columbia and their own Nugget Records, were best known for their comedy, but Mr. Sullivan's mandolin playing was another strong selling point. "He was a fine mandolin player," says"Opry" announcer and 650 AM WSM air personality Eddie Stubbs."His playing was melodic, clean and commercial. There was nothing funny about Lonzo & Oscar's singing and playing: They laid it down."
Mr. Sullivan withstood some tragedies during his life and career. In 1959, he was hospitalized for five months after an accident that killed his wife, Ruth, and his brother, Phil. "During this time, I felt like I had lost everything," he told niece Carol Sullivan, for a column she wrote in 2010 for www.ColumbiaMagazine.com. "I couldn't work, my wife was gone, my brother was gone, and I was in shock."
He recovered from that accident, and Lonzo & Oscar returned to the "Opry" stage. But in 1967, Johnny Sullivan died of a heart attack. Mr. Sullivan regrouped and found a musician named Dave Hooten to become the next Lonzo. Mr. Sullivan worked with Hooten until they decided to retire from the "Opry" in 1985, though Mr. Sullivan continued to perform some shows, first with Cleo C. Hogan and finally with musician and songwriter Billy Henson. Henson purchased the rights to the Lonzo & Oscar name in 1999.
A visitation will be held from 2 to 8 p.m. on Monday, Sept. 10, at the Bethel Primitive Baptist Church, 515 Long Hollow Pike in Goodlettsville. A memorial service will take place at Bethel at 11 a.m. on Tuesday, Sept. 11, with burial to follow at Forest Lawn cemetery, 1150 S. Dickerson Road in Goodlettsville.
Reach Peter Cooper at (615) 259-8220 or pcooper@tennessean.com.
Article sent in by Marty Martel.