Email Outpost: To be Human is About a Dream of a Normal Life
"I've Been a Music Lover Since Before My Accident and Music is my Salvation" Nick Allen
Another Eye Opener From Our Email Outpost at WHISNews21. We receive hundreds of emails about all kinds of topics for publication. We do want to publish them all, however we know if we do, some of them will get us in big trouble with the evil new world agenda. Anyway as you all know WHISNews21 tries to publish only what mainly reflects the Life and Times of Country music and Country music artists. However, the email we received at our email outpost for our attention, struck a chord and we must admit it opened our eyes, to what some people have to go though in life which we just take for granted. Perhaps some do this because they do not fully understand or want to understand the challenges our "Restricted" friends and family have to face 24 hours a day. The possibility exists that Humans don't care what others suffer as long as it's not them.
"To be Human is about a dream of a normal life out of a wheelchair the desire to walk again after a motorcycle accident and the barriers that you have to put up with. It's not sympathy that we need, it's about being treated as a normal person with restricted movement and not treated as someone from planet disabled" Nick Allen 2023
Nick admits that without friends, and family (of which he only has a few), and the band "Littlemen" whom he sings and writes for, his life would have been pretty empty.. "I have been a music lover since before my accident, and music is my salvation" Nick Allen.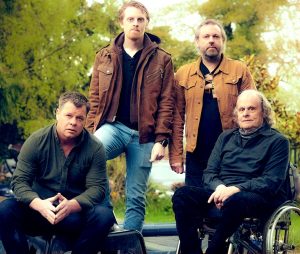 Lyricist/Songwriter & Singer Nick Allen Long-time writer for the band "Littlemen" and now lead singer; Nick is well known in the music industry, where he has been active for the last 35 years. Owner of recording and rehearsal studios, he has managed several bands including Innes Sibun Blues Band, Rhythmites, Homelands and Littlemen; toured with Blur, Innes Sibun, Rhythmites, Mick Jogger and the Rolling Zones. His musical influences include Ryan Adams, Joan Armatrading, Jackson Brown, Bob Dylan, Deep purple, David Grey, Mark Knopfler, Terry Reid and Bruce Springsteen.
In closing we thank Nick for bringing this to our attention, so that we can see and hear more clearly the concerns that normal people have, with restricted movement.
So know the big question will you be able to change your attitude? Let us know your opinion and remember be nice, Thank You
– WHISNews21 2023