Waylon, Jessi and Whey are All Jennings and Country
Whey Jennings a New Country Legend in the Making, Outlaw Style
Whey has an outlaw edge that we know his grandfather would be proud of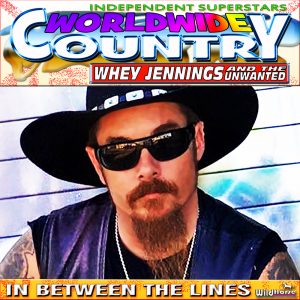 For as long as we can remember Waylon Jennings and Jessi Colter have been in and out of the Country and Pop charts with songs that have made them both legends in the music industry. Then as quickly as time slipped by their grandson became a man, who at times has been referred to as an "Unpolished and rough around the edges singer" stepped onto the stage. Whey's voice is raspy, rough, and has an outlaw edge that we know his grandfather would be proud of. Whey Jennings is now and will probably for many years to come, be known as the Grandson of Waylon Jennings and Jessi Colter. Fans are more than happy with what Whey is doing right now and will support him in his music career.
.
It has been told that when Whey was just a boy
when, at one of his grandfather's shows, Jessi Colter left a microphone on a chair backstage after performing "Storms Never Last". Whey picked up the microphone and walked out onto the stage and began singing "Mamma's Don't Let Your Babies Grow Up To Be Cowboys."
Whey's grandpa Waylon shouted out: "Hey hold up there Hoss…wait for me!" Waylon went to pickin' and when the song was finished, the crowd went nuts. It was on that day that Whey fell in love with music and as they say… and the rest is history.
.
There is much wishing and hoping that Whey will continue in his Grandfathers footsteps and keep that 'Waylon" Country music sound alive while carving out his own style in the process. During a performance back in February 2016, Whey's music career came full circle when he closed his show with an Accapella tribute song to his grandfather. The moving song had the crowd cheering and screaming for more and a new legend was born.
.
 – WHISNews21