André Hartman South African Independent Superstar
André Hartman South African Independent Superstar
André is equally masterful on the race track as he is in the studio as a producer, musician or singer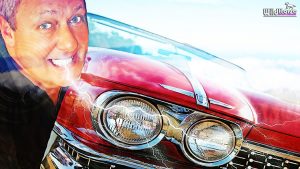 Wildhorse Entertainment Recognizes André Hartman the Producer, Artist, Songwriter, Musician, and Gymkhana Racing Driver as a True South African Superstar. Wildhorse Entertainment is extremely proud to have one of André Hartman's songs, "Cadillac's Merc's en 4X4'S" written by André and Fanie Stanton, featured here on Independent Superstars. Like most South Africans all know, André born and raised in Pretoria the Capital of South Africa is first and foremost one of South Africa's top music producers. André like most people with music in their blood has played in various bands during his career and backed hundreds of artists over the years either with his incredible harmonies or amazing keyboard abilities. André is also pitch-perfect and can play any song you can possibly hum within seconds. He has admitted that it sometimes is a curse, for when he is out somewhere listening to a live band or singer he is able to hear every single sharp or flat note like it is flagged for his attention.
André is equally masterful on the race track as he is in the studio as a producer, musician or singer
On the race track he is mentioned many times in the social media and racing columns in printed magazines and newspapers. It is hard to tell if it is a hobby for André or a profession, as he takes it all very very seriously. This was recently said about Andre at a Gymkhana event. Masters class 1st place went to Andre Hartman who drove his blue Z4 M coupe-like a true professional, was a sight to behold, he got a time of 34.14 which was also the fastest of the day. The Z4 M car driven by André seemed to thrive on this route, The blue Z4 M of Andre Hartman looked as if it was on a Scalextric track and danced perfectly around the cones coming in at an amazing time. We are all hoping that we don't lose the musical talent of André Hartman to the race track, as for us in the music business, that would be a great loss.
Wildhorse Entertainment recognises André Hartman the producer, artist, songwriter, musician and Gymkhana racing driver as a true South African Superstar and a terrific person to work and perform with in the studio or live on stage.
As a top record producer and recording engineer, it is a fact that André has produced almost every top South African artist you could think of. If we had to mention all the artists here we would most certainly run out of space, so we will mention only one artist that stands out for us here at Wildhorse Entertainment and that would be, South Africa's favorite Afrikaans Singing Superstar "Juanita du Plessis" with her gigantic million selling CD, "Skarumba" which we know André was pretty much responsible for even though he shy's away from the fact.  Most people are not even aware that Andre was also the man behind the creation of the highly successful "Stamp" CD's on which he performed many of the songs under stage names.  André also sung many songs on various CD's over the years but for one reason or another never under his real name.  If we had to give away one of his secret names here it would be, MR H and leave it at that.
To read more about André Hartman, go to his download page on South African Independent Afrikaans Superstars, by clicking the Radio Airplay banner to the right. Once there you can download his latest Single for Radio airplay and be sure to leave André a comment there too, before you leave with his new hit song, "Cadillac's Merc's en 4×4's"
You can also listen to André performing this hit on Wildhorse Entertainments Promotional Afrikaans radio, "Radio Sprinkaan" which has been created for the sole purpose of promoting the Independent Superstars who are featured on Wildhorse Entertainment.
If you have downloaded one of Andre's hit songs please let us know or add a comment below for André to read as your support is so necessary and so welcome by all at Wildhorse Entertainment and most of all by André Hartman a true professional in the music business, a South African Independent Superstar. All songs available by André Hartman airing on our Artists Promotions internet radio station are for DJ download on Wildhorse Entertainment and authorized by our Superstar André Hartman. We ask all who download André songs to please remember that you can help to further André Hartman's career by spreading his name and music wherever you can.
André Hartman's downloads are not for resale but for promotional purposes only, thank you.