Tributes Pour In For Queen Of Country Kitty Wells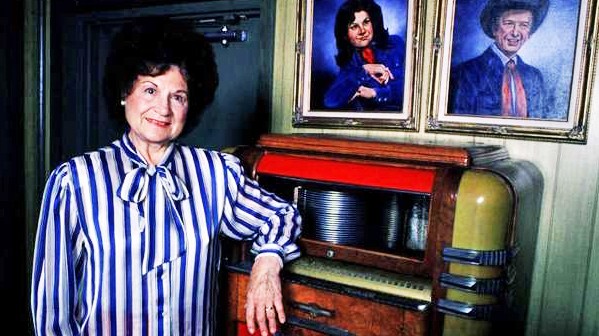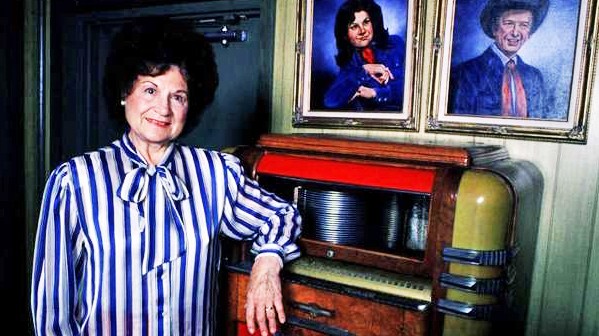 NASHVILLE – Kitty Wells, the "Queen of Country Music" who blazed the trail for female performers in the genre, died Monday in her Madison home after complications from a stroke. She was 92.
Mrs. Wells became a groundbreaking force in country music with her breakthrough 1952 hit "It Wasn't God Who Made Honky Tonk Angels," the first No. 1 hit by a solo female on the country charts. She went on to be the country music industry's top female vocalist for 14 straight years, and was inducted into the Country Music Hall of Fame in 1976.
Mrs. Wells was one of the few country superstars born and raised in the Nashville area, and throughout her career and 74-year marriage to fellow country star Johnnie Wright, Mrs. Wells provided a model to which future generations of female country stars aspired. "Country music lost an icon that we as females in country music hold up," country star Lee Ann Womack told The Tennessean on Monday. "She paved the way for generations after her and really made a mark for women in country. It's a tough business for women. She proved that she could sell records and tickets and have hits in a time when that hadn't been proven yet by female acts." Born Muriel Ellen Deason in Nashville in 1919, Mrs. Wells was part of a musical family. Her father was a country musician, her mother a gospel singer, and Mrs. Wells embraced music at an early age. As a teenager, she learned to play guitar and began singing with her two sisters and a cousin as the Deason Sisters. "Nashville was a country town when I grew up here," Mrs. Wells told The Tennessean in 2001. "Farmers would come where the courthouse is now and sell their products on the street. There were street cars all over town." In 1937, at the age of 18, she married
 Johnnie Wright
, beginning a 74-year marriage and musical partnership. "It was just luck that we met," Wright told The Tennessean in 1995. "I brought my mother and father to visit my sister one Sunday afternoon in 1935. My sister happened to move next door to Kitty's people, and she said, 'There's a girl next door that plays guitar and sings gospel songs.' Two years later, we were married." It was Wright who gave Mrs. Wells her stage name, which originated from a folk song recorded by the Pickard Family in 1930. Mrs. Wells sang with Wright in several outfits: first with her sister as Johnnie Wright and the Harmony Girls, and later with Wright and Jack Anglin as Johnny & Jack. The latter's performances on the "Louisiana Hayride" radio program led to a deal with RCA Records. Mrs. Wells made a few solo recordings for the label in 1949 and 1950, but didn't land a hit.  
By 1952, Mrs. Wells was considering retiring from music to focus on home-making when she was persuaded to record the J.D. Miller-penned "Honky Tonk Angels." The song was a response to Hank Thompson's "Wild Side of Life," and while it borrowed the melody from the recent country hit, its lyrics turned the gender tables: Where "Wild Side of Life" blamed a carousing woman for a man's sorrow, Wells' version blamed men for "every heart that's ever broken." Mrs. Wells' song broke onto country charts that summer, and by August, it had knocked "Wild Side of Life" out of the No. 1 slot, making her the first solo female artist to top country charts. In the wake of Mrs. Wells' success, record labels began signing other women to recording contracts and marketing their singles with the same enthusiasm they'd shown for male artists. As labels rushed to sign other female acts, Mrs. Wells continued having hits, and building a legacy of plaintive, unadorned country music. She was known for being similarly unadorned onstage — often wearing gingham dresses in concert. WSM DJ and family friend 
Eddie Stubbs
 told The Tennessean on Monday afternoon that in person, Mrs. Wells carried herself with "poise, professionalism, dignity and class." "This lady radiated those qualities," Stubbs said. "She had it on the stage and she had those qualities off the stage. She had them in the grocery store when you saw her shopping. And she had them in her home. When you were in her home, you knew you were in the presence of someone very special and very great." Mrs. Wells' performances of songs including "Makin' Believe," "Amigo's Guitar" and "Jealousy" inspired some of country's stars that followed, including 
Emmylou Harris
, 
Dolly Parton 
and 
Loretta Lynn
.  "She was my hero," Country Music Hall of Famer Lynn said in a release on Monday. "If I had never heard of Kitty Wells, I don't think I would have been a singer myself. I wanted to sound just like her, but as far as I am concerned, no one will ever be as great as Kitty Wells."  
Throughout the '50s, '60s, and '70s, 81 of Mrs. Wells' singles made it onto the charts, 35 of which entered the Billboard Top Ten. She starred in her own syndicated TV show in 1968, but it was also around that time that the hits began to dry up. Mrs. Wells, Wright and family remained focused on live performance. Their Kitty Wells-Johnnie Wright Family Show featured their three children: Bobby, Ruby and Carol Sue, and the family show was a constant, in-demand presence on the road until the couple retired from touring in 2000. As late as last year, the couple's tour bus remained parked in front of their Madison home. "I remember working in Australia in the late '90s," 
Reba McEntire
 recalled to The Tennessean on Monday, "and someone said Kitty had just played in Australia and was doing over 100 dates that year. I couldn't believe it. She was my hero." Aside from the road, Mrs. Wells returned to the spotlight on several occasions. In 1989, she joined Lynn, Brenda Lee and k.d. lang for the "Honky-Tonk Angels Medley," which earned her a Grammy nomination. Two years later, Mrs. Wells became the first female country singer to be given the Grammy Lifetime Achievement Award. In 2008, the Library of Congress added "Honky Tonk Angels" to its National Recording Registry of works of unusual historic merit, and the Country Music Hall of Fame and Museum opened the exhibit "Kitty Wells, Queen of Country Music" Wright died in September of 2011 at the couple's home in Madison.     
Shortly before his death, they welcomed a guest: New York singer-songwriter Laura Cantrell, who had recorded a tribute album entitled "Kitty Wells Dresses: Songs Of The Queen of Country Music." "She came along at a moment when the adage that women couldn't sell country records could be disproved," Cantrell told the Tennessean. "There was no mystique to her at all: She and Johnnie went about their business in an old-school Nashville way, where you travel, make music and meet your fans. I mean, you could get recipe tips from the Queen. But that gingham was hiding a powerful person who had a huge cultural impact and is still fascinating. Mrs. Wells' influence is felt in performers as young as "American Idol" alum Kellie Pickler, who embraced classic country influences on her most recent album. "I think that Kitty Wells meant and still means so much to the women of country music," Pickler told The Tennessean on Monday. "…Her music will forever live on. She's up there singing with Tammy, I'm sure." According to Stubbs, who worked for a time as a fiddle player for Mrs. Wells and Wright, Mrs. Wells was aware of her legacy and impact, but chose to put it in a certain perspective. "I asked her how it felt to be the first one to have that breakthrough success." Stubbs recalled. "She said, 'Somebody had to be the first. I was the one that was just fortunate enough to be put in that position.'" Mrs. Wells is survived by her son, Bobby Wright; daughter, Sue Wright Sturdivant; eight grandchildren; 12 great-grandchildren; and 5 great-great-grandchildren.   Funeral services will be held at 1 p.m. Friday, July 20, at 1 p.m. at the Hendersonville Church of Christ. Visitation will be held from 2 p.m. to 8 p.m. Thursday, July 19, at Hendersonville Church of Christ. In lieu of flowers, donations can be made to to Goodpasture Christian School in Madison, Tenn., by way of the Kitty Wells/Johnnie Wright Scholarship Fund.
Send in By Marty Martel.
The Tennessean's Dave Paulson, Cindy Watts, and Peter Cooper contributed to this report.
 Below Are Some Tributes to the Queen Of Country Music Kitty Wells
Kitty Wells is the undisputed queen of country music but there's more to being a queen than just calling yourself a queen – it's a title that goes with an entire lifetime of service and influence. You check the careers of anyone in Nashville, and you won't find anyone with a more spotless career than Kitty Wells."
Marty Stuart Singer and Friend
*******
Of all the songs Kitty ever recorded her "DUST ON THE BIBLE," album is still in print.  No one could deliver with more emotion a Gospel song any better than Kitty Wells.  Although known all over the world for her Honky Tonk Country Records she also had some fabulous Gospel recordings.  She will be missed by the whole world.
Keith Bradford, KMA Records, NBN TV and Friend
*******
Kitty Wells will always be the greatest female country singer of all times. She was my hero. If I had never heard of Kitty Wells, I don't think I would have been a singer myself. I wanted to sound just like her, but as far as I am concerned, no one will ever be as great as Kitty Wells. She truly is the queen of country music.
Loretta Lynn – Country Superstar and Friend
*******
In 1992 I met Miss Kitty Wells while my brother Clyde and I were in Nashville visiting Keith Bradford. He was working and touring with Kitty and her husband Johnny Wright.  He asked them if we could ride with them on the bus to Ernest Tubb Record shop where they had a show that night. Kitty and Johnny were both so sweet and we had some real good conversations. Kitty was a down to earth woman who couldn't believe that people considered her the "Queen of Country Music". She told me that she was just a normal person, like I was. I told her, not hardly and She laughed at that. I could go on and on about Kitty, but in closing I would like to say, there will never be another Kitty Wells. Rest In Peace, Dear Lady!!!
Barbara Blevins – Songwriter and Friend
*******
'll always remember our beloved Queen of Country Music, MS. Kitty Wells, who has gone home to be with her late husband of 75 years Johnny Wright. Kitty and Johnny were fine country music entertainers and they are now singing in Heaven's Choir. The one thing that stands out in my memories of Ms. Kitty Wells, took place at the end of a WSM Radio Broadcast in Nashville. Johnny introduced my sister Barbara Blevins and myself, Clyde Birkla during the live show and then Kitty stopped where I was and asked how I liked the way she sang "Amigos Guitar"? I said It was great as usual. I considered it a great honor to be asked that question by Ms. Kitty Wells. We'll miss you…
Clyde Birkla – Songwriter and Friend
*******
To reduce Wells to a single song is to risk diminishing both her craft, her artistry and her influence on the evolution of American music. Even before hitting with "Angels," Wells had been a founding member of the "Louisiana Hayride," the influential Shreveport, La., radio show that showcased some of 
country music
's biggest stars, and which in 1954 provided the first national exposure for a young Presley. In 1956, her "Kitty Wells' Hit Parade" was the first full-length album released by a female country singer. Her hits stretched throughout the 1950s and 1960s, and she confirmed for formerly wary label executives that female country singers could hit hard with a good song and do it on a consistent basis. In her music, as in her life, she helped transform the 
no
 at the heart of "Honky Tonk Angels" into a proud affirmation of the possible.
Randall Roberts – LA Times
*******
I have received several emails asking why I have not written an article on the passing of the one and only Queen of Country Music, Miss Kitty Wells.  My reply is that the following story really says it all.  Miss Kitty Wells, her husband Johnny Wright, and their son Bobby Wright, gave me more memories than I ever expected.  I was honored to have booked The Kitty Wells Family Show on many of my package shows.  I was lucky enough to sit down and eat with them and listen to great stories of their time in country music, then listen to them performing on stage.  I was privy to great moments that they shared with me.  I was given advice from Kitty and Johnny throughout my relationship with them.  So to write about it now, I will leave in the hands of those writers who will write their articles with quotes from all of the great artists in the business who have stories to share.  My memories I will always have until my last breath, because I was lucky enough to be in the presence of royalty when I was with the Wright Family. I will leave the quotes to Jean Shepard, Loretta Lynn, and others.  This is no doubt one of the greatest losses in all of the country music industry.  Miss Kitty Wells left a legacy that is etched in stone and will forever be a road map for female artists now and in the future.  She paved the road so that it would be smooth for all the artists, male and female who wanted to have success in country music.  She proved through her love for her family first and foremost, her love for her sweetheart and husband of over 70 years, Johnny Wright.  She wrote the book regarding priorities in the entertainment field, and she lived by that book.  She led the way for all female artists, in fact for the male artists also. To try and put into words what she means to family, and then to the music, would be impossible for any of us who write articles, because there would never be enough space to say what needs to be said, but if you were as lucky as I was to have spent quality time with Miss Kitty, Johnny, and Bobby will live with me forever. We have lost the only Queen that country music will ever have.  The Crown that she wears is in heaven with her, and  her legacy will continue to be in the history books of all music genres', as she sits on her throne as the QUEEN OF COUNTRY MUSIC.  I will miss her so very much, but I was fortunate to be able to work with her as an artist and also has a promoter.
Marty Martel, BKD Promotions and Friend
*******
 GOD REST HER SOUL, BUT ALL OF US KNOW THAT SHE AND JOHNNY ARE TOGETHER AS THEY SHOULD BE.  I BELIEVE THE BLESSED LORD CALLED HER HOME BECAUSE JOHNNY WRIGHT MADE SURE THAT THE LORD KNEW HE WANTED MISS KITTY TO BE WITH HIM ONCE AGAIN.