Toby Keith Diagnosed With Stomach Cancer
Toby Keith: I Have The Best Fans In The World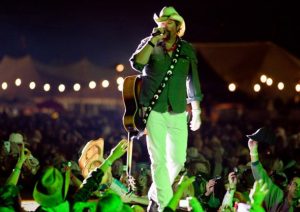 Toby had originally issued a statement about being diagnosed with cancer back in the fall of 2021. He then went ahead and spent the next six months, receiving chemo, radiation, and even surgery, while assuring his fans that the treatment was going well and that he did need time to recuperate and needed to spend time with his family. Soon after making that decision, Toby was forced to cancel more than a dozen shows leading up to the end of 2021.
On Sunday, June 12, of this year, Toby took to social media and issued a statement thanking his fans for their love and support and wanted them to know that they are the best fans in the world, which resulted in an outpouring of support from fans across the world, plus many fellow celebrities.
Despite all that is happening to Country music star Toby Keith, he assures fans that he's optimistic about his ability to return to the road as soon as possible. "I will see the fans sooner than later. I can't wait," the singer said in closing.
-WHISNews21