Stars Headline 2020 Country Music Cruise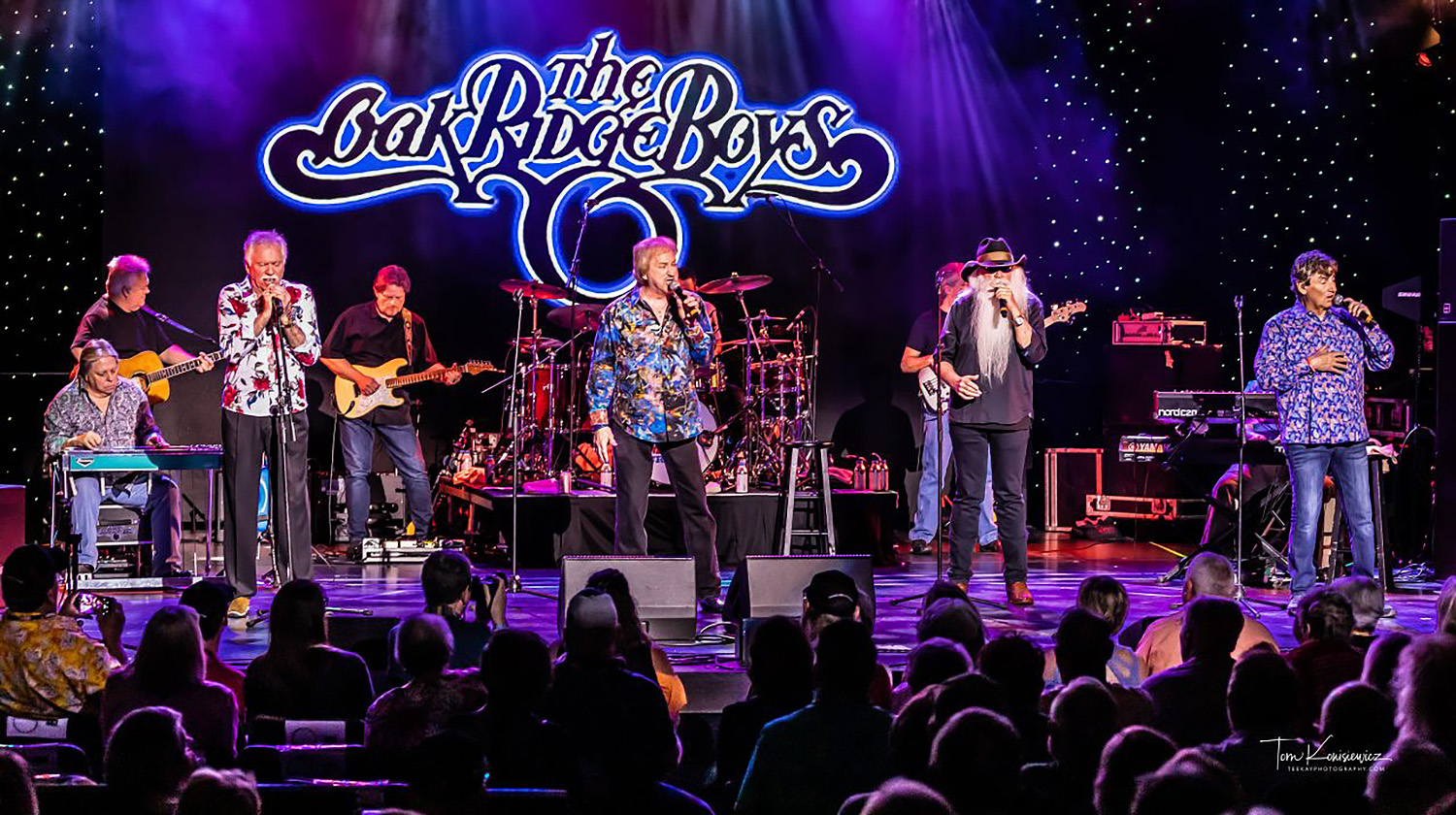 Tracy Lawrence, Oak Ridge Boys, Randy Owen Among Stars
Lawrence was just one of the revelers onboard Holland America's Nieuw Amsterdam as it set sail for St. Thomas, U.S. Virgin Islands; San Juan, Puerto Rico and Half Moon Cay in the Bahamas the last week of January. It was a week of sunny skies and tropical beaches buoyed by a stellar country music soundtrack that included performances from Berry, Lawrence, Moe Bandy, T. Graham Brown, Linda Davis & the Scott Family, The Gatlin Brothers, Tony Jackson, Wade Hayes, Ben and Noel Haggard, Johnny Lee, The Oak Ridge Boys, Randy Owen, David Frizzell, Exile, Pam Tillis and many, many more.  "I don't think anybody had more fun on that boat than Tracy Lawrence," John Berry told Sounds Like Nashville as the seventh annual Country Music Cruise returned to port. "He's a nut and so much fun."
"It was unbelievable how many artists were on the ship," Berry said. "It was pretty awesome!"
There were also wine tastings, cooking demonstrations, a marriage vow renewal ceremony hosted by T. Graham, a talent competition (the winner opened for the Oak Ridge Boys Friday night), a cornhole contest, the Grand Ole Opry at sea, an auction that benefited T.J. Martell and many other activities. Lorianne Crook hosted on stage Q&As with many of the artists where fans could ask questions, and artists let their hair down and sometimes overshared. (Tillis admitted she accidentally hit the emergency help button in the restroom, and the crowd erupted in laughter.)
Crook's favorite memory from the week involved Lawrence. "I was walking down the hallway and saw Tracy gasping for breath, and for a very good reason," she said. "A fan six-stories down wanted his autograph and they did not have a Sharpie. Tracy had a Sharpie in his room, but the elevators were full so he ran up the stairs as fast as he could for this one fan's autograph. It shows you the kind of heart our fabulous superstars have for the fans."
"I was literally about to die," Lawrence interjected with a laugh.  "I had to stop for a minute."
Lawrence says he had a great week making new friends and visiting with old pals. "I've played on several working cruises over the last few years and they tend to get a little claustrophobic, but this one I had so much fun being able to hang out with my peers and socialize with everybody and listen to all the wonderful music that was on the ship," said Lawrence, who celebrated his 52nd birthday the same night he headlined the main stage. "I really had a great time. I made the rounds and tried to see a little piece of every show that was going on to the best of my ability.  I missed a couple of things but I stayed out and about."
During his show, Randy Owen playfully asked the crowd why they thought he did the cruise: "So I can see all the other artists for free," he told them. True to his word, Owen turned up all over the boat enjoying shows right along with the fans. "I go to all of them. I never get to see anybody play," he says of seeing other artists perform. "I went to see the Haggard boys. I love them and of course loved their daddy. I visited with Ben a little bit. He has a lot of future."
Hayes also saw Merle Haggard's sons Ben and Noel Haggard perform and became a fan. "I was very curious about Ben Haggard," Hayes told SLN. "I hope that kid makes a record soon. He is an incredible talent."
Like Owen and Hayes, the Oak Ridge Boys' Duane Allen says he enjoyed seeing other artists perform. "The past few years, I have asked the stage manager to sit me a chair on the side of the stage so I can watch and listen to the other artists," Allen said. "The Country Music Cruise is full of great country, bluegrass and gospel artists. I love great music and sitting on stage, over behind the speakers is such a thrill for me."
Another highlight for Allen was the Sunday morning gospel show. "When we hosted the gospel show, it was like having church on that cruise ship," he said. "There were so many touching moments."
Owen enjoyed socializing with his friends. "I got to visit with the Gatlins the other night and had dinner with them," he smiles. "I visited with Tracy Lawrence. My cousin Jackie loves Tracy and I haven't got an autograph for her yet. Jackie loves him and I do too of course.  He's had a great career and it's great to see him celebrate his birthday."
When someone later mentioned to Lawrence that Owen was looking to get an autograph for a family member, he laughs and said, "Tell him to look for me in the casino. I like to play black jack and I like Caribbean Stud or Mississippi Stud, but they didn't have a Caribbean stud table. I don't typically gamble a lot anymore, but I always enjoy doing it on a cruise. I met a whole lot of guys from south Louisiana and made a lot of friends so we spent a lot of time together down there through the week."
Linda Davis and her husband, Lang Scott, performed with their daughter Rylee. [Their other daughter is Lady Antebellum's Hillary Scott]. This marked the first time the couple had been on a cruise since their honeymoon 36 years ago. "My favorite part of the Country Music Cruise was EVERYTHING," Davis enthused. "It was a combination of beautiful ingredients that made it special. It felt like the old Fan Fair days at the [Nashville] Fairgrounds, except it was on a cruise ship. The fans go to interact with the artists and hear as much music as they can in six days/nights. The artists go to meet and greet and sing for the fans. It was like backstage at the Opry where the dressing room doors are all open and artists float in and out of each others' rooms and end up in the wings watching each other perform. The adventure was so special for me because Lang and Rylee were invited to be a part of it too. I love showing off my talented husband and daughter. So for Lang and Rylee to have been received so warmly made my heart want to burst."
Scott agreed with his wife that the whole atmosphere of the week felt like the good old days when artists and fans connected at Fan Fair. "This is like Fan Fair used to feel, but it's just Fan Fair contained on a big ole luxurious ship," he says. "I would highly recommend it. You get close up to the artists and it's a better, relaxed connection. Everyone is so nice and the staff has been fantastic. And you get a chance to get one on one with the passengers. They've all been very gracious and warm."
Scott says there are many moments he'll remember, including his wife saying a prayer on stage for a safe voyage as the ship left and they were on deck performing the sail away show. "We had a performance and we had the Gatlins join us on stage, so that was our favorite," he said of the Gatlin Brothers joining them during a concert in the Ocean Bar. "I did not know they were going to get up. It was unplanned and so much fun!"
David Frizzell said one of the things he enjoyed most was working with the band that was backing many of the acts. "We did three shows and working with a band you've never worked with before, you get a little nervous, but we just got up there and hit it. They are one of the best bands I've ever worked with," he says of performing with fiddler Megan Mullins, guitarist Kevin Key, bassist John Howard and drummer Chuck Tilley, Wade Hayes' regular band that also backs other artists on the cruise.
Frizzell spent part of the cruise in his cabin working on the screenplay for a movie about the life of his legendary brother Lefty Frizzell, but he still managed to spend time having fun. "We got a chance to see people we've grown up with like Moe Bandy and Johnny Lee. He's is one of my best friends in the world," Frizzell said. "I love Johnny and we go back many years, way back. And I love T. Graham Brown! That's probably one of the best things about the cruise is coming out and seeing people you don't get to see. We don't hang out at the house together, so it's just been great."
Among the many shows during the week, the nightly performances from the Elvis Tribute Artists are always favorites among both the other artists and the fans. The songwriters shows featuring Terry McBride and Wynn Varble with Hayes, Lemaire, Owen and Exile's J.P. Pennington were also among the week's most talked about performances. "J.P. and I were involved in some of the songwriter sessions and that just blew up in popularity," says Lemaire. "Being a part of that with Terry McBride and Wynn Varbel was amazing.  It was a great experience."
Hayes agrees. "The most fun I had was getting to play the writer's night with my friends Terry and Wynn," he shared. "Both of those guys keep me in stitches as they play hit after hit they've written."
As fun as those sessions were, there were also some very moving moments, including the night Varble sang "Have You Forgotten," which he co-wrote with Darryl Worley, and dedicated it a woman in the audience who lost her daughter on 9/11. She was a flight attendant on Flight 93 that crashed in Pennsylvania.
Hayes also hosted a special late night jam session on the Lido deck that is always one of the highlights of the week. Hayes and his ace band did potent covers of Don William's "Tulsa Time" and Willie Nelson's "Angel Flying too Close to the Ground." Chuck Mead and the Grassy Knoll Boys did the very appropriate "Sea Cruise." Lawrence wowed the crowd with Haggard's "Are the Good Times Really Over?" Tony Jackson performed "Don't Rock the Jukebox." Bandy, Berry and Johnny Meyer also took the stage and kept the late night crowd on the dance floor as the ship sailed on into the night.
Tim Atwood and Chrissy Sparks performed each night in the piano bar, taking requests from the crowd and welcoming special surprise guests, including Berry who wowed the crowd with the Buck Owens classic "Together Again."  Lawrence served up Mark Chesnutt's "Too Cold at Home" and and Frizzell and Mullins performed the classic "You're the Reason God Made Oklahoma," which had been a hit for Frizzell and his duet partner Shelly West back in the 80s. A few fans even got up and took a turn behind the mic, including a recent widow who bravely belted out a song while the crowd cheered her on.
"I met a lot of really cool people.  That was very satisfying," Pennington said when asked what he'd remember most about the week. "Plus it's always so much fun to see the other acts."
"Terry McBride and I would run into each other all the time," Berry shared with a smile. "He said, 'Okay, I'm not sure who is stalking who!' I never saw anybody on that boat as many times as I did Terry McBride."
For Moe Bandy, one of the highlights was besting Johnny Lee in the Family Feud competition. "I won the Family Feud," he says proudly.  "I just loved the cruise. We had so much fun. It feels like a family, and the fans are so great. We got a chance to mingle and mix with them, and I love to do that."
The 2021 Country Music Cruise is set for January 24-31, leaving Ft. Lauderdale and sailing to Freeport, Key West and Cozumel.  The line up includes Josh Turner, The Oak Ridge Boys, Mark Chesnutt, Sawyer Brown, Lee Greenwood, Jimmy Fortune, John Schneider, Jeannie Seely, Wade Hayes, Mo Pitney, Ashley Campbell, Mandy Barnett, Mickey Gilley, Asleep at the Wheel and many others. For more information, visit countrymusiccruise.com.