Garth Brooks Officially An APX Honorary Member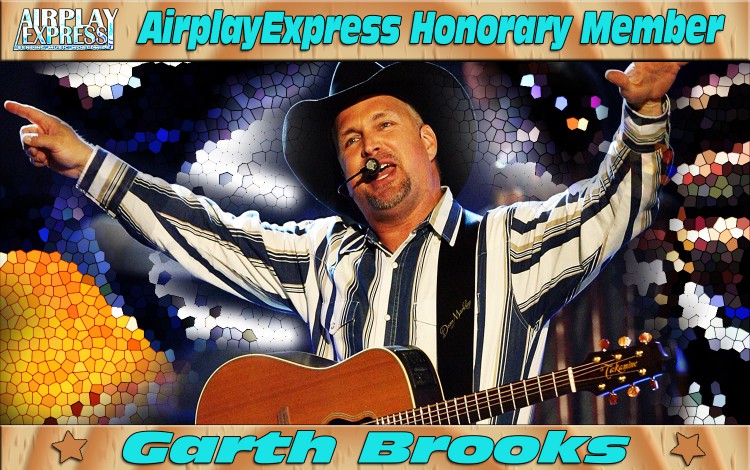 Garth Brooks Officially an Honorary Member Of AirplayExpress
Honorary Membership Status awarded to 'International SuperStar 'Garth Brooks'
by the official members of AirplayExpress on this the 27th day of March 2016
Garth Brooks has sold more than 100 million albums during his career His music successfully crossed over onto the Pop charts
Born in Tulsa, Oklahoma, on February 7, 1962, Garth Brooks signed with Capitol Records and released his self-titled first album in 1989, which had mild success. His third album, Ropin' the Wind, was the first country album to debut at No. 1 on the pop charts. Brooks has made a number of albums since, selling more than 100 million in all. He retired in 2000, but began performing again in 2009
Early Career: Country singer Garth Brooks was born Troyal Garth Brooks on February 7, 1962, in Tulsa, Oklahoma. Brooks got his start in music singing in bars and clubs while attending Oklahoma State University. In 1987, he moved to Nashville for the second time—his first attempt was unsuccessful—with his wife, Sandy, to try to make it in country music. With help from music manager Bob Doyle, Brooks eventually signed to Capitol Records. His early hits include "If Tomorrow Never Comes" and "The Dance."
.

Commercial Success: Although sales for Brooks's first album, Garth Brooks (1989), were strong, it would have been hard to predict the amazing success Brooks's releases would later achieve. His second effort, No Fences (1990), sold more than 700,000 copies in its first 10 days on the market. His third, Ropin' the Wind(1991), racked in a record-breaking 4 million orders before its release, and became the first album by a country singer to debut at No. 1 on the Billboardpop charts. His 1998 release, Garth Brooks Double Live, sold over one million copies in its first week of sales, breaking the previous record. To date, Brooks has sold more than 100 million albums in his career. Brooks's live concerts have also been extremely successful. An August 7, 1997, concert in New York City's Central Park drew an estimated 250,000 to 1 million people.Brooks startled many in 1999 by releasing In the Life of Chris Gaines, an album featuring Brooks as a fictional Australian grunge rocker. Panned by critics, the album had mediocre sales (by Brooks's previous standards) and was purportedly the soundtrack to an upcoming film about Gaines titled The Lamb. He rebounded from the setback by winning three American Music Awards in January 2000, including for artist of the decade, favorite male country artist and favorite country album (for 1998's Double Live release).
Retirement and Comeback: Brooks announced at the end of 2000 that he wanted to spend more time with his wife, Sandy, and three daughters, Taylor Mayne Pearl (born 1992), August Anna (1994), and Allie Colleen (1996). He released the album Scarecrow in 2001 which debuted at #1 on the Billboard charts. It would be his last studio album for over a decade. Struggling to balance his work and family life, Brooks divorced his wife in October 2000 and officially retired from recording and performing. In 2009, Brooks returned to music scene and began performing regularly on the Las Vegas Strip. In October 2010, he announced his first large-scale arena concert in Nashville since 1998. All proceeds benefited Tennessee residents affected by the May 2010 flooding. One of the top-selling country music artists of all time, Brooks has received several special honors in recent years. He was inducted into the Songwriters Hall of Fame in 2011. The following year, Brooks also became a member of the Country Music Hall of Fame. George Strait and James Taylor were among the artists that honored Brooks at his induction ceremony.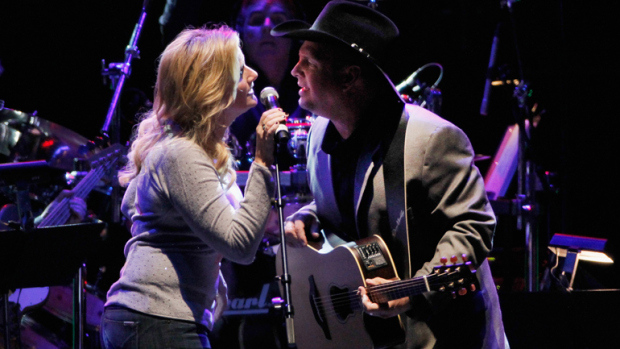 Wynn Las Vegas: In 2009, Brooks accepted a three-year stint for a string of performances at the Wynn Las Vegas. The intimate performances given by Brooks—his set only featured Brooks and his guitar, as he shared personal life experiences and the importance of his family—resonated with audiences and proved to be a huge success for the artist. The country star played sold-out shows throughout the entirety of his residency. For the final show on November 29, 2013, Brooks partnered up with CBS for a live broadcast event. The TV special received 9.33 million viewers claimed the No. 1 spot in the ratings for the night. Not long after his final Vegas performance, Brooks announced that he'd be returning to the Wynn on January 3-4, 2013 with his band. The set was entitled Garth Brooks: The Man, His Band and His Music. The shows sold out.
New Album and World Tour: In July 2014, Brooks announced an upcoming album and world tour. The singer inked a record contract with Sony Music Nashville for his first studio album since 2001's Scarecrow. Not a fan of digital download companies, Brooks made his new songs available digitally via his official web site. The album, Man Against Machine, came out in November 2014. Around this same time, Brooks appeared as a presenter on the Country Music Awards.
Garth Brooks Officially An Honorary Member Of AirplayExpress
AirplayExpress Sending Your Music Worldwide