Music City Hayride most affordable show in Nashville
The Excitement Of The Evening was felt by one and all
The Music City Hayride is honored to have had some of the best County music Stars in the business grace their stage at the World Famous "Texas Troubadour Theatre" 2416 Music Valley Drive Nashville, TN. 37214.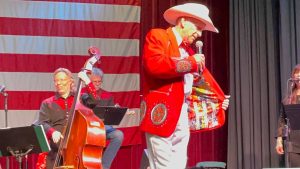 There is no official list but these are just a few artists who made a huge impression on the country fans during their performances at the Music City Hayride, Highway 101, LuLu Roman, Bobby G.Rice, Barbara Fairchild, Leona Williams, Diane McCall, Bobby Lewis, Margie Singleton, Buddy Jewel, Tennessee River Boys, Ken Mellons, Hawkshaw Hawkins Jr, Melissa Luman, Ron Williams, Tim Atwood, Johnny Counterfit, South 70 Band, TN Mafia Band, Randy Archer, Grandy Hackett, Allen Karl, Donna Cunningham, Chuck Hancock and so many more…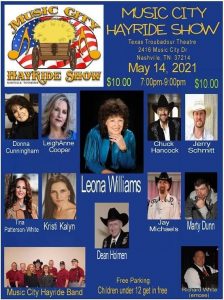 Last week's Music City Hayride show was such a huge success with the fans that The management took the opportunity of handing out awards to the deserving artists for their recent achievements in the music business, much to the delight of the audience.
Dean Holmen (EMM Publishing) was seen Receiving his Platinum Record for Tina Patterson-White and Marty Dunn duet "Do You Ever Think of Me" The Platinum Disc award is for the Radio and DJ Downloads, Presented to the artist, Marty Dunn and Tina White-Patterson, recognizing World Wide downloads of AirPlay Express Radio Release of "Do You Ever Think of Me".
"Thank you all for the kind words. This is a full team effort and could not be done by one person alone. I have a great team of people making this show what it is." Dean Holman commented on Facebook.
Others on the show were, Marty Dunn, Tina Patterson White plus more. As usual, the Music City Hayride Band" were world-class making all the artists sound the best they could.
The Music City Hayride Show is definitely the most affordable show you will find in all of Nashville! Only $10.00 per person, with children under the age of 12 getting in free! plus, Free Parking, which is totally unheard of in Nashville these days! Now, what more can you expect?
– WHISNews21