"Allen Karl" Inducted Into IDSS Hall of Fame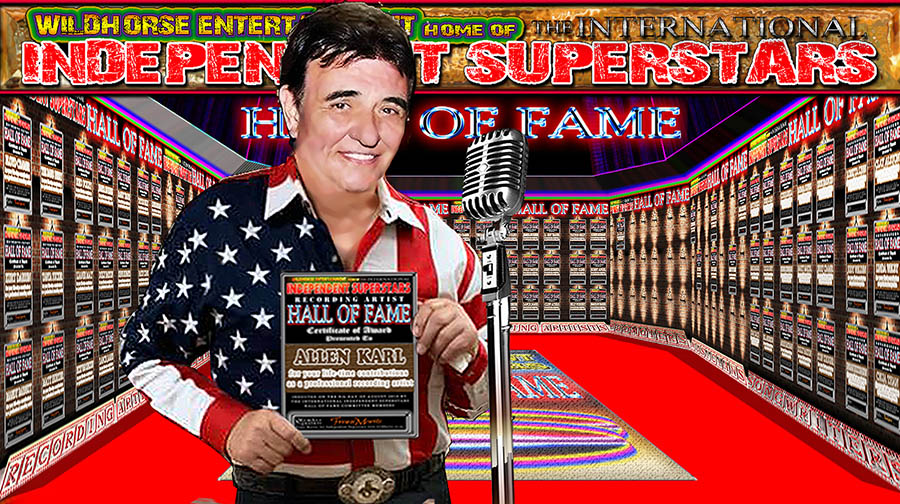 Allen Karl has been inducted into the Independent Superstars "Recording Artists" Hall of Fame. Frans Maritz (Wildhorse Entertainment) signed the official certificate placing Allen into this prestigious organization located in South Africa. Allen has the distinct honor of being inducted into the IDSS Hall of Fame for his lifetime contribution to the Independent Music Industry as a Recording Artist. Allen is seen holding his award below in the animated Hall Of Fame, confirming his induction into the Hall Of Fame. " Thank You, everybody, thanks a lot I certainly did not expect to get this award, thanks again "-Allen Karl

Biography of Allen Karl
Allen Wins His First Talent Show At Age 17 putting him On Stage With Patsy Cline, Willie Nelson & many more
.
International Country Superstar with multiple Music Awards Earned During a Long and exciting Musical Career. Allen is from Pennsylvania where he had his own radio show at the age of 14. He lived near Baltimore, MD until recently when he moved to Murfreesboro, TN. A move which has been his dream for a lifetime. Allen has had 12 Number 1 Independent Chart Singles and  6 Number 1 Duets with Donna Cunningham since 2010. In 2010 he had the Number 1 CD Album in Europe as charted by the European Country Music Association.
Winning a talent show at the age of 17 put him on stage with the legends like Patsy Cline, Hank Thompson, Johnny Cash, Vern Gosdin, Willie Nelson and so many more. Allen served our country as an Air Force Pilot in Viet Nam earning the Purple Heart, and other medals. During his tour in Asia, he put together a band that entertained when not on active duty.In the seventies, he recorded the song "I'm Gonna Buy Me a Camel" during the gas shortage, which went to the top 10 on Billboard. Since then, Allen has put all his money and efforts into keeping true country music alive.
In 2017 he and Donna Cunningham had the Rural Roots Music Commission's #1 Country Duet Album of the Year "Doin' Those Country Covers"
Allen as the CEO of Century II Records which he started in 1987, took home the prestigious, "Record Label of the Year Award' at the 2018 Josie Awards.
Allen is a member of the Native American Country Music Hall of Fame, the National Independent Music Hall of Fame, European Country Music Hall of Fame, and several others. More recently he has become a sponsor for the Dewdrop Jamboree, Murfreesboro, TN, and as Vice President of the Music City Hayride, Troubadour Theater,  Nashville, TN. while also performing shows at both venues. Allen's motto at Century II is "Keepin' It Country"
Allen Karl Hall Of Fame Award
 – WHISNews21