Last Chance for AirplayExpress Big Easter Promo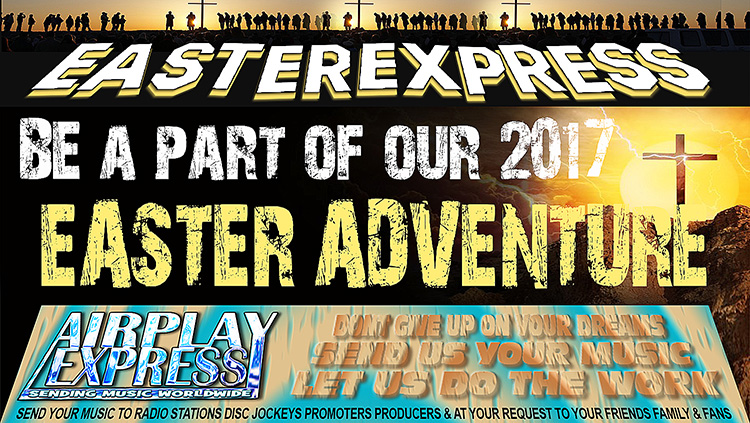 AirplayExpress Plans Big Promo For Easter
AirplayExpress Special Easter Magazine Edition plus EasterExpress Music compilation & Top20 Chart
Latest update: Pages still available with time to spare
This magazine will be going around the world at Easter why not go around with us.
With less than three weeks the time is here to consider booking and being a part of AirplayExpress's special Easter promotions. The Special Edition internet magazine will be out the day before Easter Friday also known as Good Friday. AirplayExpress is offering a full-page plus all artwork to all at a special price of $75 and a special price of $150 for the front page, if the order is placed and confirmed within the next 14 days.  This magazine will be available for viewing or downloading in High quality 24 hours a day forever on AirplayExpress and be sent out to over 5000 music related people worldwide on the day of release via email. It is a perfect way to get you and your music, biography, touring information or Easter message to your friends, family and most importantly out to your fans via a professional industry music magazine released by AirplayExpress.
The special 2017 edition EasterExpress  ETX#01 music compilation is already flying around the world with a few Easter Songs onboard. You could be a part of this very special Easter compilation by submitting your Easter song now for a fee of $100 and enjoying all the special promotions organized for this Easter Adventure with AirplayExpress.  IF you have already had one of your songs promoted for radio airplay by AirplayExpress you could qualify for a 50% discount.
As an artist sending out your music worldwide on this EasterExpress you could featured on the special EasterExpress Top 20 chart based on downloads and Radio & DJ playlists reported to AirplayExpress up to and until the Easter Weekend.
The popular Nashville Broadcast radio Network has agreed to air this very special Easter Top20 Chart on Easter Sunday in place of the regular Gospel Top20 to be heard worldwide through the magic of the Internet. The show will also be made available to all artists and radio stations for download and airing on AirplayExpress's radioworld.
That's the deal, and unfortunately there is a price to pay for these very special promotions, but there is a huge amount of time and work involved in keeping our promise to you making sure that this will an Adventure you will remember for many years to come and be as proud and honored to be on this adventure with us, as we certainly will be to have you, be a part of this special 2017 Easter adventure.
– WHISNews21 [2017]