Donny Richmond enters Country Gospel Hall of Fame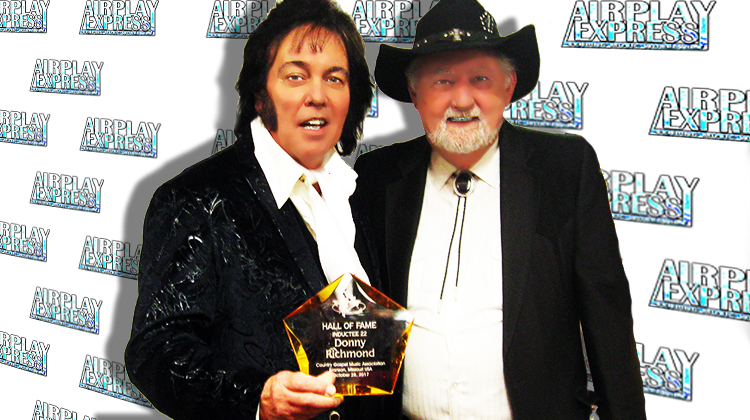 Donny Richmond enters Country Gospel Hall of Fame 
SEVIERVILLE, TN — Sevier County's Donny Richmond was inducted to the Country Gospel Music Association Hall of Fame recently during a ceremony in Branson, Missouri. Richmond, a multiple award winning artist, is known in many countries.
As a young artist, Richmond moved to Hollywood, California to pursue a show business career before being invited to London, England where he was signed to a worldwide recording contract as a Pop music artist with EMI Records in the 1980s.
Upon returning to the states, Richmond experienced a spiritual renewal which led him to change his approach and to explore his new dream of influencing the world with positive Christian values by way of country music. Moving to Nashville in 1992, Donny became the very first predominately Country Gospel style artist chosen to be included on the mainstream Country music CDX Compilation CD distributed to thousands of radio stations across America, and was featured on the same CD with Garth Brooks, George Jones, Wynonna Judd, and Kenny Chesney.
During the 1990s, Richmond was at the forefront of the emerging new genre of music now known as "Christian Country" or "Positive Country" music. He was arguably the genre's most publicized artist. During this period, Richmond received various music association awards in categories including Male Vocalist of The Year, Songwriter, Producer, and Top TV Host. He was Entertainer of The Year 6 times. Richmond was named honorary "Colonel" by the Governor of Tennessee and appeared on The Grand Ole Opry. In the year 2000, he was awarded as both the country gospel Artist of the Decade and Entertainer of the Decade. While a regularly appearing artist on Country Gospel and Christian Country Charts, with numerous #1s, Richmond hosted his own TV program, "The Don Richmond Show," which aired on the Christian Television Network (CTN) and in syndication. Subsequent programs and TV Specials have come to be seen in various countries, including throughout Europe, Canada, Australia, New Zealand, and others.
Richmond moved to Sevier County in 2001 to perform at the Classic Country Theater in Pigeon Forge. He decided to stay after falling in love with the people and sights of the area. With the success of his TV programs airing overseas in 2005, Donny's record releases began charting internationally, and this long string of chart hits continues today. Donny's songs have reached #1 in more than a dozen countries.
In 2016, Richmond's duet recording with country music legend Stonewall Jackson, "Jesus Is My Lifeline", reached a music history milestone, having reached #1 status during 3 different decades. During its initial release in the 1990's, the song was the longest running #1 in the history of the U.S. National Music City News and Gospel Voice Charts.
In 2016, Richmond's acting role in the faith-based movie, "The Christmas Reunion," was accompanied by featured roles for both of his sons, Donny, Jr and Carl. Richmond's starring role in the 2017 faith-based movie "Saving Faith" earned him a nomination for Best Lead Actor in a Feature Film by the International Christian Film Festival.
– Knoxville Daily Sun