The 12 Best Country Christmas Albums Of All Time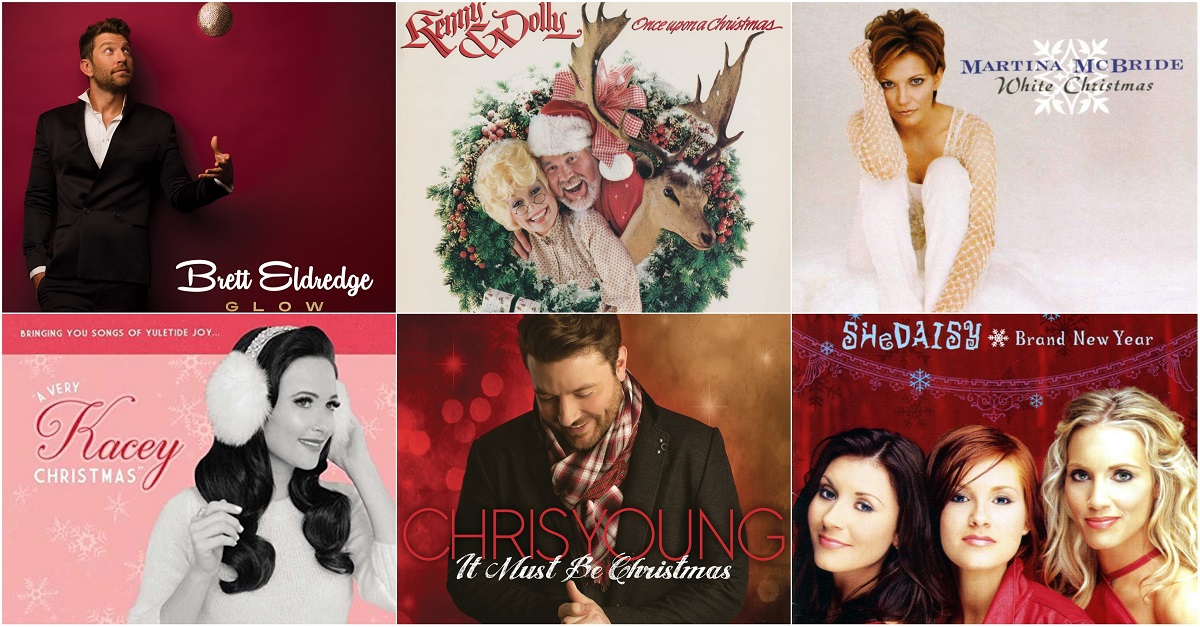 The 12 Best Country Christmas Albums Of All Time
Do you have one of these albums playing all winter long?
From decking the halls and decorating festive cookies to waking up and opening presents on Christmas morning, music is the soundtrack of the holidays. For Country fans, there's no shortage of albums celebrating the season. From the genre's biggest names to its newest stars, the story of Christmas is woven into the fabric of Country music.
Whether you've been naughty or nice, there's sure to be a record or two that will strike your fancy. So pour some cocoa, sit by the fire and drop the needle on these 12 iconic Country Christmas albums…
Once Upon A Christmas, Kenny Rogers & Dolly Parton (1984)
On the first day of Christmas, my true love gave to me…a holiday album from Kenny and Dolly! A year after recording their iconic Bee Gees duet, "Islands In The Stream," Kenny Rogers and Dolly Parton reunited for a seasonal offering that quickly became a classic. In support of the project, on December 2, 1984, CBS even aired a television special called Kenny & Dolly: A Christmas To Remember. The album has since been certified Double Platinum and was re-released in 1997 with a slightly different track listing, making room for a version of Dolly's beloved "Hard Candy Christmas." While Kenny and Dolly each released Christmas albums respectively, Once Upon A Christmas goes down in holiday history as an essential addition to every music collection thanks to the magic that only happens when these two Country legends collaborate.
Let There Be Peace On Earth, Vince Gill (1993)
Vince Gill has released multiple Christmas albums, but 1993's Let There Be Peace On Earth—his first seasonal effort—is by far his best. His soft acoustic arrangements of traditional holiday fare like "Do You Hear What I Hear?" "What Child Is This?" and "I'll Be Home For Christmas" are as warm and tender as the singer himself. The album's four originals are now considered classics, including the title track, which features a version with his daughter, Jenny; and "It Won't Be The Same This Year," penned in honor of his brother, who tragically passed away following a car accident. Gill and his wife, Amy Grant, have since become synonymous with Christmas; and their annual holiday residency at the historic Ryman Auditorium reminds us why.
Merry Christmas From London, Lorrie Morgan (1997)
Lorrie Morgan headed across the pond for her celebrated late-'90s Christmas album. Merry Christmas From London was given the royal treatment with an orchestral and vocal assist from the New World Philharmonic and Choir. The "I Didn't Know My Own Strength" singer keeps it classic for a holiday outing that also features vocalists who put the 'C' in Christmas. Tammy Wynette joins Morgan on a medley of favorites titled "A Christmas Festival." Meanwhile, Andy Williams' familiar voice makes an appearance on "Little Snow Girl," and Johnny Mathis joins Morgan on "Blue Snowfall." As for Morgan, she puts her stamp on Christmas with the whimsical and rarely recorded "Toyland" and the festive Rodgers & Hammerstein classic "My Favorite Things."
White Christmas, Martina McBride (1998)
Martina McBride had already become Country music's sweetheart when she released her fifth album and first Christmas record in 1998. And just like that, with White Christmas, she also became the voice we never knew we needed to usher in the holiday season year after year. Although the multi-Platinum selling effort has been re-released and repackaged several times over, the original with the closeup of McBride in winter white, is the only one to listen to. With 10 traditional selections that rarely veer from the original arrangements, McBride effortlessly lends her powerful voice to songs we already know and love, making White Christmas utter perfection. Although she served up a second volume of holiday hits with 2018's It's The Holiday Season, a throwback to the big band era, White Christmas remains her quintessential seasonal release.
Brand New Year, SHeDAISY (2000)
SHeDAISY might be MIA today, but the trio of sisters left a lasting imprint on Country music from 1999-2006. When the girls bowed Brand New Year, they seemingly headlined every Christmas special in the year 2000. From the serious to the sassy, the album is a grab bag filled with everything from a Tiffany's engagement ring to a white elephant gift. "Deck The Halls" gets a makeover in three-part harmony, while album closer "How Can I Keep From Singing" finds the ladies in a reverent, hymn-like moment. But it's songs like the cheeky "Santa's Got A Brand New Bag," the clever "Tinsel Town" and the quirky "Twist of the Magi" (featuring Rascal Flatts) that puts an unconventional, imaginative spin on an otherwise serious holiday.
Joy To The World, Faith Hill (2008)
With a short blond bob and a stunning strapless pink gown accented in gold, Faith Hill smiles on the cover of her sole Christmas album, Joy To The World. And oh what joy she brings to 11 incredible versions of both sacred and secular carols. Faithful to the old renditions, Hill lends her strong, confident voice to holly, jolly favorites like "Little Drummer Boy," "O Come, All Ye Faithful," "O Holy Night" and more. The game changer comes at the conclusion with the collection's lone original, "A Baby Changes Everything." An instant classic, the song changed our perspective on the Christmas story. Noticeably absent is the soaring track, "Where Are You Christmas?" which Hill recorded for How The Grinch Stole Christmas movie in 2000.
On This Winter's Night, Lady Antebellum (2012)
Charles Kelley, Dave Haywood and Hillary Scott add their signature vocal blend to a dozen Christmas selections that feel tailor-made for their voices as they ring in December with On This Winter's Night. Lady Antebellum joins classic R&B artists like The Temptations, Gladys Knight & The Pips and Patti LaBelle in recording Donny Hathaway's soulful "This Christmas." Moreover, the award-winning trio slows Mariah Carey's iconic "All I Want For Christmas Is You" down to a ballad and lends some Country twang to a cover of Elvis' "Blue Christmas." Lady A even writes their own nostalgic classic with the title track and adds a worshipful bridge for a standout moment on "Silent Night (Lord of My Life)."
The Spirit of Christmas, Michael W. Smith & Friends (2014)
Michael W. Smith gets by with a little help from his friends on 2014's The Spirit of Christmas, which finds the Christian music legend collaborating with Country's finest. Little Big Town lends their lush four-part harmony to an angelic version of "Silent Night." Jennifer Nettles duets with Smith on the triumphant "Christmas Day," and Bono even makes a cameo on a reading titled "The Darkest Midnight." Smith also sprinkles in some personal moments with a feature from his granddaughter, Audrey, and an appearance by his longtime friend and tour mate Amy Grant. But it's the Smith-penned "All Is Well," featuring a flawless performance by Carrie Underwood, that stands above the rest. With an unmatched vocal range, Underwood silences the room as her soaring pipes promise peace on earth and good will toward men.
It Must Be Christmas, Chris Young (2016)
Chris Young's warm baritone welcomes listeners home for the holidays on It Must Be Christmas. Like the timeless sound he's become known for, Young perfects his mix of both traditional and modern cuts across 10 tracks that celebrate chestnuts roasting over an open fire, cold winter nights and sacred moments of reflection. He also gets some high-profile assists from artists like his Country predecessor Brad Paisley on "The First Noel" and even '90s R&B sensation Boyz II Men. However, it's his duet with Alan Jackson on "There's a New Kid In Town" that transforms this Christmas offering from a one-time release to a yearly tradition.
A Very Kacey Christmas, Kacey Musgraves (2016)
Kacey Musgraves' inaugural holiday LP is everything you'd expect from one of Country music's most progressive acts. Slightly irreverent, completely unorthodox and perfectly nostalgic, A Very Kacey Christmas finds Spacey Kacey adding her own tinsel to the tree. With unique collaborations from Leon Bridges, The Quebe Sisters and Willie Nelson, Musgraves proves she's the life of every holiday party. Her light, fragile vocal dances across selections seemingly made for the Texas darling, like "Have Yourself A Merry Little Christmas," "What Are You Doing New Year's Eve?" and the original "Christmas Makes Me Cry." With a dash of vintage charm, a hint of Latin flair and a quirky western vibe, her debut Christmas effort is everything we love about Musgraves wrapped up in a pink rhinestone-studded bow—"very Kacey" indeed.
Glow, Brett Eldredge (2016)
Soulful Country crooner Brett Eldredge pays tribute to his lifelong hero Frank Sinatra on his brightly lit Christmas record, Glow. With a classic big band vibe full of effortless swagger, Eldredge delivers a heaven-sent collection that crowns him the king of Christmas. Like a Gatsby-inspired soundtrack plucked straight from the Golden Era, it's easy to imagine Eldredge as a sixth member of the Rat Pack. His duet with pop princess Meghan Trainor on "Baby, It's Cold Outside" and the original title track, though modern, still maintain a retro vibe. His annual Christmas shows have become something of a tradition, so much so that he's bringing Glow to life on stage in 10 cities this December.
Christmas Together, Garth Brooks & Trisha Yearwood (2016)
Who would have guessed that Garth and Trisha's first duets album would come in the form of a holiday record? The two Country icons gifted fans this 11-track Christmas collection back in 2016. This Amazon-exclusive finds the couple exchanging vocals on a mix of classics and originals. They poke fun at tradition with "Ugly Christmas Sweater" and wax poetic with "Merry Christmas Means I Love You." In a nod to Dolly, Trisha takes the lead on "Hard Candy Christmas" before joining her husband on their version of "Baby, It's Cold Outside." The power couple end on a note of gratitude with help from James Taylor on "What I'm Thankful For (The Thanksgiving Song)." Here's hoping we'll unwrap a second duets album from Brooks and Yearwood under our tree in the future.