Wildhorse Entertainment Christmas Heroes #2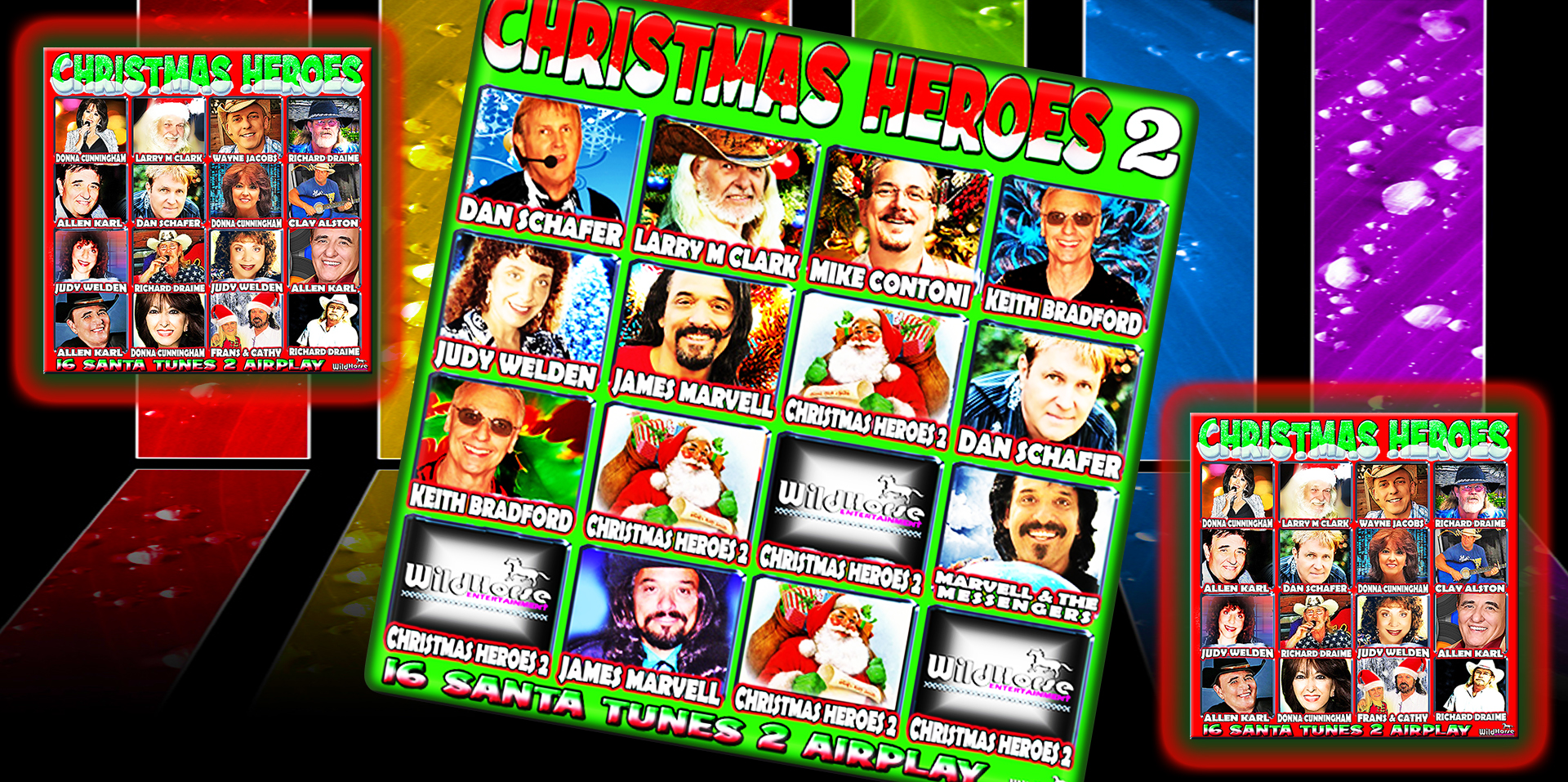 We Proudly Say Merry Christmas 2 All
As we Bring You More Christmas Musical Gifts
Wildhorse Entertainment Christmas Heroes #2
Featuring James Marvell, Dan Schafer, Larry M.Clark, Judy Welden, Mike Contoni, Keith Bradford and Songwriters, Roger 'Glenn' Miller, Roberta Miller, Barbara Blevins, Rhonnie Scheuerman
DJ 's Please click on any of the banners to download for airplay
Christmas Heroes 2 is a star studded line up of Top Independent Christmas Superstars
On this Airplay compilation you will hear Dan Schafer perform the music of Barbara Blevins, Keith Bradford and Dan Schafer. James Marvell also performs some of his biggest hits in the style of Christmas written by various songwriters which includes Rhonnie Scheuerman. Keith Bradford is also featured here singing the songs of the famous Roger 'Glenn' Miller and his wife Roberta Miller.  Mike Contoni and Larry M Clark do such a great job with their own Christmas compositions to make this Christmas Heroes Compilation Volume 2 a really exciting and happy collection of Christmas Tunes to Jingle your ears with this Christmas.
All the above menetioned Christmas Time Heroes will also be playlisted on rotation on our Promotional Internet Christmas Radio Station  WCTR Wildhorse Christmas Time Radio  and can be heard there almost every hour 24 hours a day 365 days a year with the kind permission of all artists concerned to help promote their music into the future.
Send a Christmas Wish to Family, Friends and Fans
Just so y'all know you can send us a Christmas greeting as an audio file to whisnews21@aol.com  Once we receive it we will master it in the spirit of Christmas just for you, and playlist it forever on WCTR Wildhorse Christmas Time Radio where you will be able to listen to your wish year after year after year, on WCTR Wildhorse Christmas Time Radio.
Jingle the Christmas banner below to listen to
Christmas wishes by Christmas fans worldwide
DJ's Please Don't Forget About Our Christmas Heroes #1
Just Jingle the Banner below gently and download
DJ's when at AirplayExpress please register as a member